Music Reviews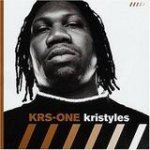 KRS-One Kristyles
(Koch)
Buy it from Insound

South Bronx rap veteran KRS-One returns with Kristyles, an album scattered with the occasional lame hook and the constant booming baritone provided by Kris Parker, who commandeers the mic as confident as he was seventeen years ago with his original South Bronx outfit Boogie Down Productions. Similar to wily veteran counterparts like Guru, Masta Ace, Ghostface Killah and Large Professor, KRS-One is at his best when he's fired up on the mic, an agitated approach that allows him to deliver intellectual yet crazy boastful rhymes; and that's why a track such as My Philosophy (from BDP's classic By Any Means Necessary) is so mesmerizing two decades later.
Slick metaphors intertwine between the preachy posturing and bragging, which ultimately saves a few tracks damaged by weak hooks and choruses (You Feel That, Aint the Same), and original BDP producer (and older brother) Kenny Parker provides the beats on Alright with Me. On 9 Elements KRS slyly breaks down the multi-textured hip-hop culture, and on Survivin' he cleverly loops the Brand Nubian classic All for One, but although the Beatminerz produce a handful of tracks, some of the beats on Kristyles fall flat.
"Turn the radio off- word," bellows KRS with a chuckle, as he knows what lies ahead on Gunnen Em Down, by far the album's most rugged track, with a simple beat and blown-out bassline that would no doubt receive the late Scott La Rock's seal of approval. "In five years your whole catalog is irrelevant," Parker seethes, no doubt aiming his lyrical crosshairs at the big-willie retards of so-called rap radio. Present company excluded here as KRS-One adds another chapter to his thick, consistently timeless catalog.
31 July, 2003 - 23:00 — Chris Conti