Music Reviews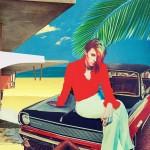 La Roux Trouble in Paradise
(Polydor)
Buy it from Insound

The last time we heard La Roux was in 2009, when the frenzied synths of Bulletproof stormed up the charts and made radios the world over sound like raving, computerized music boxes. Cold was Elly Jackson's stare on the cover of their debut, an album marking the arrival of a duo that could potentially throw in some much needed electronic oomph into the airwaves of the time. You'd think the times would be propitious for Jackson and Ben Langmaid, what with her edgy, androgynous aesthetic and his snappy, hooky brand of synthpop. But even the status of being one of the standout artists of 2009 wasn't enough to withstand the changes ahead. The two split in 2012 after artistic conflict, panic attacks, and vocal problems. Jackson has been on her own since, and La Roux is now solely her project and her name. Five years after the first record, she finally has the sound to go along with the transformation.
Not that there's been a major change. Trouble In Paradise is marked by subtle shifts in sound and mood, specific variations in aesthetic, when compared to La Roux's debut. On the cover sits Jackson, reclining on the hood of a glamorous Chevy in the middle of a beach. The colors are bright, like the production, but Jackson retains her impassive gaze as well as her mohawk. The record, after all, is called Trouble In Paradise for a reason, and whatever those reasons were, they've tinged the sunny new wave grooves with a vague misapprehension. ''Streets are lined with people/ with nothing left to lose, lose, lose'', Jackson chants on lead single Uptight Downtown, thin falsetto long abandoned, sounding fascinated and troubled all at once. The tinny disco of her debut has been replaced by bouncing basslines and reverbing riffs, and what we're left with is one of years most warm, fun and sexy pop records.
Trouble in Paradise is at once sleek and solid, every track pulsing with a kind of confidence that invites closer listening but is equally pleasant as a collection of mood-heightening jams. Take Sexotheque for example, one of the album's highlights. Jackson sounds as natural as ever, singing charmingly about a cheating lover in a narrative much sadder than the lush beat accompanying it. When she belts out that she'd bet her money he's at the sexotheque, the energy is palpable and the sentiment is sincere. For Jackson, joy and pain aren't as straightforward as releasing some dance-pop single followed by a piano-laden slowie. The uptempo tracks on Trouble in Paradise are shot through with as much tension as the ballads, and songs such as Let Me Down Gently have the same vitality as more spirited numbers like Tropical Chancer or Kiss and Not Tell. This ambiguity also drives Cruel Sexuality, an exercise in sexual confusion that looks especially intriguing in the context of Jackson's gender-bending tendencies, and Silent Partner, a frisky ode to the toxicity of a certain relationship ("I'm crying out for silence/ You're not my partner, no you're not a part of me"). It might refer to Langmaid or it might not, but let's just assume that it does. After all, five years brings enough change for most careers, and let's be honest: Elly Jackson made a better album without him.
1 August, 2014 - 04:27 — Luiza Lodder