Music Reviews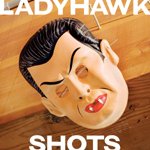 Ladyhawk Shots
(Jagjaguwar)
Buy it from Insound

If there's a more interesting indie-rock label than Jagjaguwar out there at the moment then they certainly aren't sending me promos. Its ridiculously impressive roster - Okkervil River, Bon Iver, Black Mountain, Sunset Rubdown, I could go on - reads like a who's who of my current favourites and with the release of Ladyhawk's second album Shots it really seems like these guys can't miss at the moment.

Another top quality product of the fertile Vancouver scene, Ladyhawk released its self-titled début on Jagjaguwar back in 2006. Boasting two genuinely great tracks in The Dugout and My Old Jacknife (both of which featured in No Ripcord podcasts last year) Ladyhawk offered a refreshing take on the 'Southern' rock sound with its sinewy guitar riffs and meaty rhythm tracks. Shots takes that formula and runs with it, venturing into some darker terrain along the way. It's a bolder record, which manages to sound mature without sacrificing the band's free-wheeling 'jam session' sound.

The muscular opener I Don't Always Know What You're Saying kicks the record off with a bang. A ramshackle medley of pounding drums and relentless guitars, this mid-tempo rocker sounds so energetic and spontaneous that I wouldn't be surprised if the band had only jammed it out ten minutes prior to nailing it in the studio. The moody Fear is another early highlight, more a paranoid comedown than an alcoholic-fuelled high, but a cracking tune nonetheless. The album's middle third explores a somewhat darker place - just take a look at those song titles (Corpse Paint, Faces of Death) if you don't believe me - but things brighten up again on Shots' final track, the ten minute plus epic Ghost Blues. The band's most ambitious track to date, this three part marathon tips its hat to progressive rock without ever slipping into the realms of self-indulgence. I presume the band recorded it in a relatively sober state, too, because it features the record's finest musicianship by far.

So while Jagjaguwar may well release a below par record in 2008, Shots is not that record. Funnily enough, it's the sound of one of Canada's best new bands. Well, what did you expect?
13 May, 2008 - 15:46 — David Coleman