Music Reviews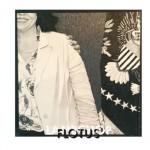 Lambchop FLOTUS
(Merge)
Buy it from Insound

There's a sprawling sense of ambition to Lambchop albums that can come off, to some extent, as intimidating to some. The Nashville country-folk project, led by singer-songwriter Kurt Wagner, has matured into a wordsmith whose patient, sedate lounge is usually suffused with careful reflection and playful songwriting. He allows you to keep full, open judgment, and those who decide to get into his groove-oriented arrangements and smooth jams will get to discover more than what the surface level might suggest.
Now closing in on 25 years, FLOTUS (For Love Often Turns Us Still) isn't a reinvention as much as it is a calculated attempt to impose a new narrative stance on his longstanding career. This time around, the main selling point is that Wagner is experimenting with pitch manipulation hardware, a contentious device that accounts for why mega moguls and indie darlings like Kanye West and Bon Iver implement it with artful finesse (and relevant pop stars like T Pain and Rihanna less so to the ire, though occasional delight, of radio listeners everywhere).
Wagner doesn't just utilize this technique to add some flavor to FLOTUS. He fully and confidently owns it. And, oh - does he ever know how to take flight with it: the fairly inconsequential opener In Defense of 8675309 (though kudos for the ingenious title) is expectedly paradoxical in how Wagner has flipped the standard language of country-folk. It's difficult to parse what Wagner sings about in its steady, sun-speckled 12 minutes, though even if he's always been trigger happy with the pop cultures references it'd be fascinating if this were an actual dissection on Tommy Tutone's hunt for Jenny's affection. And it might very well be so, but Wagner keeps things as cryptic as possible despite featuring one of the album's most splendid arrangements.
Wagner does cleverly use this vocal gimmick as a vehicle to move most of FLOTUS' leisured, 70-minute runtime, and though a few surprises behold most of the middle portion tends to blend in as if it were one large track. The shuffling sonic touches and isolated scatting of JFK provides an entryway into Wagner's carefully-tailored progressive elements, and in truth, they actually favor Wagner's fleeting moments of clarity. He sounds as if he's trying to communicate from a radio transmitter in songs like Howe and Harbor Country, both of which follow his band's usual assortment of gently-fluttered piano keys and prominent bass parts.
Even when the band lets loose, such as in Relatives #2, you can't escape the feeling that FLOTUS is fully in the service of Wagner's glitchy melodic conception. Not until Writer comes along do we get some insight into what Wagner may be trying to tell us, and the sudden change feels like an unwelcome disruption. It's actually a great song in itself even if sounds a tad out of place, though, featuring a very inquisitive array of spectral bleeps and robotic percussion slaps as Wagner reflects on his own failings and the struggle of finding the true essence of things. But Wagner fully realizes the album's artistic vision with NIV, where motorik percussion and Wagner's vocal distortions beautifully converge to make an oddly touching performance intended for alien ears.
FLOTUS will get inevitably compared Bon Iver's obtuse failure 22 A Million, an apt comparison since both Wagner and Vernon seem to have a similar motive in how they try to find some humanity out of very technological means. While Vernon's feels like a poorly sketched vanity project, Wagner actually succeeds in how he doesn't betray his usual casual demeanor regardless of its bemusing disposition. FLOTUS is much more than another genre effort, where Wagner deeply alters his usual country bearings and gives it a new and unexpected orientation.

8 November, 2016 - 04:43 — Juan Edgardo Rodriguez