Music Reviews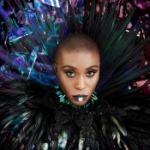 Laura Mvula The Dreaming Room
(RCA)
Buy it from Insound

Laura Mvula has a way with communicating matters that relate to the self. "If all I am is wrong/ And I have is gone/ And all I have is gone / Then how am I to live? / I can only be who am I", she reflects as a blanket of starry sonics and whimsical xylophones nuzzles her words. It's the first thought that comes out of the Birmingham singer-songwriter's latest offering, The Dreaming Room, an apropos way of describing a celestial moment that is otherwise mired in uncertainly. Ever since Mvula first released the still-transcendent first single She back in 2012, she's been firm about expressing these powerful sentiments that are wrapped in otherworldly choral pieces. She seems so alien, and so at ease, as if she's patiently soothing our worries with just the precise amount of wisdom and humility.
Mvula is a wicked talented artist - she's a classically trained singer and pianist who doesn't have an interest in affixing her voice with any focus group-informed Max Martin ballads or light-flailing electro pop gymnastics. Instead, she's had the support of a major label by simply taking things to her accord, even if that means that her arrangements will occasionally be liven up with some avant-garde flourishes. Her debut release Sing to the Moon was certainly eclectic but at tad restrained at times, more focused in merely introducing all of her assets without really taking a set course. If anything, it was a test trial that showcased her true range and versatility - she can write jazz standards with an understated seduction that recalls Nina Simone, ethereal folk songs that evoke the subtle whims of Karen Dalton, and chilling octaves that harken back to the neo-soul days of Jill Scott.
The first thing that stands out about The Dreaming Room is how both everything and nothing's changed. Mvula is still a pensive performer who embraces her gospel upbringing, and yet we're also at the presence of a fiercer, more axnssertive performer. She's an activist who believes in inclusion and justice, like in album single Overcome, where an orchestral accompaniment adds an extra magnitude to special guest Nile Rodgers's slinky guitar lines ("Even though we suffer/ Come together, be brave/All God's children, come"). She's also pushing pop music's limits as much as she can on Passionate Woman, a festive statement that celebrates womanhood with an afrobeat groove alongside artful industrial elements, with an infectious bounce that gives credence to her Caribbean heritage. She's never sounded more free, following a narrative throughout the album that takes her from crippling apprehension to supreme self-dominance.
But before she overcomes this arc, Mvula goes through a number of personal setbacks that further reveal a songwriter who, up to this point, had been a tad reticent on unveiling too much about her personal life. The utterly beguiling Let Me Fall shuffles syncopated hi-hat hits with Moog-inspired melodic keyboard lines as she seeks some release ("Won't you let my soul shine like the morning sun? / Another day has come, so let me be"), ending on a somewhat optimistic note despite alluding to a not-so-distant divorce that brought her loads of anxiety. The hair-raising Show Me Love is perhaps the album's centerpiece, a quiet, almost entirely vocal performance that does nothing more than highlight her powerful vocal range, a divine choral solo accompanied by a fanciful orchestral spectacle that gradually towers into an astral plane. Mvula seeks for a spiritual blessing ("You showed me love / Of the deepest kind"), setting herself on a path towards an intimate enlightenment that gives her infinite strength.
Even if Mvula hasn't turned her back against the classical stylings of Sing to the Moon, she does shed its more academic focus and unravels a more organic spirit that lies within. There's a sense that she's embracing her vulnerabilities, as much as they're a challenge to expose, which thankfully works to the benefit of songs that are both profoundly and sonically adventurous. She continues to use these astrological motifs with the intent of making some tangible connection, not as a means to escape but more so to inhabit a more soul-centered life. That she's taking these songwriting liberties under the guidance of a industry behemoth like RCA is simply miraculous. Mvula has written a hypnotic record that provides a congenial embrace, but it also isn't afraid to take bold action. A new star is most definitely born. [Believe the Hype]
27 June, 2016 - 04:18 — Juan Edgardo Rodriguez