Music Reviews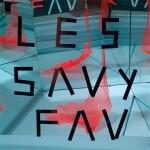 Les Savy Fav Root for Ruin
(Frenchkiss)
Buy it from Insound

For a lot of people, Les Savy Fav started with 2007's sprawling, bible-referencing, history-buff Let's Stay Friends. The album took the snarled post-hardcore jaggedness of the band's earlier work and married it rather impeccably with some bouncy disco rhythms and testosterone-ignited pop punk. Songs made it into prime time commercials, Raging in the Plague Age made it into Grand Theft Auto 4, and Tim Harrington became something of an indie comedy icon. It seemed like the album Les Savy Fav were working towards all the way back in the Rome Upside Down days – equal parts weird, heart-wrenching, quirky, joyful and out-and-out wonderful. You could say it was the album where Les Savy Fav started sounding exclusively like Les Savy Fav. So naturally that makes Let's Stay Friends a hard act to follow, and expectedly Root for Ruin pales in comparison to the monumental effort before it. The record doesn't have the same songwriting strength, by-the-throat hooks or lyrical prowess as its older brother does, but it does find some resonating elements all on its own.
The elementary problem with Root for Ruin is simply that the songs aren't as good as some of the band's best work, it carries over the same loudquietloud structures, spidery guitars, gap-filling drums and call-back choruses, but nothing here hits the lucid and near-effortless fluidity of something like The Year Before The Year 2000 or The Sweat Descends. Instead we have eleven solid and likable rock songs arranged in an album, oh poor us. Tim Harrington is a little less manic here, and a little more dampened, when the relative docility of Brace Yourself was comfortably distanced by a number of world-encompassing metaphors – "Before I was a war /I was a sword," the song that takes its place on Root for Ruin is Let's Get Out of Here has the usual lit-obsessed, yarn-spinning singer talk explicitly and candidly about an unrequited love affair that applies specifically to himself. "I want you, I want you… right now" he murmurs, a few spindled riffs later he submerges deeper; "I don't need you, to soothe me, to fix me, I just want you, to want me now" before finally coming crashing down in a gorgeous, pained, highway-yearning breakdown "Let's get out of here now, let's get out of here!" You're scarcely going to find a goofball like Harrington, someone who's been almost entirely noticed for his flamboyancy, write a love song so undiluted by scoffs or sarcasm.
The rest of Root for Ruin doesn't really come close to the impact of Let's Get Out of Here but it's all serviceable. The mathematic, hectic Excess Energies, the swarming, air raid sounding Lips n' Stuff the built-by-mechanic Dirty Knails are all good, but they don't capture Les Savy Fav at the top of their game. Root For Ruin is an album of decent, somewhat disappointing Les Savy Fav songs, but as its come to pass in the indierealm, any batch of Les Savy Fav songs is better than no batch of Les Savy Fav songs.
15 October, 2010 - 21:52 — Luke John Winkie