Music Reviews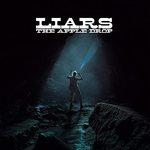 Liars The Apple Drop
(Mute)

If Liars, the solo vehicle of Angus Andrew, had increasingly become a project rooted in isolation, then The Apple Drop sounds like the reclaiming of what he'd lost in the past four years. After 2017's TFCF, the perception became that Andrew would scale things back considerably after longtime member Aaron Hemphill left the band. And though you could say that Andrew did form TFCF off the scrapped remnants of their partnership, it was also another unpredictable move in a career full of them. It showed him at his most daring, audacious, and, well, lost, but it never felt like he had carried on from what he had built.
The Apple Drop immediately stands out in its ambition, on which Andrew pushes out the size and scope of his noise-driven, avant-garde musings like ever before. He also chose not to do things by himself. With jazz drummer Laurence Pike and multi-instrumentalist Cameron Deyell on board, Liars resort less to synths and distortion and more to a full band playing live takes—an approach that wasn't as noticeable since 2010's Sisterworld. Andrew's sense of menace remains, though possessing a higher level of maturing and confidence that can only come from 20 years of experimenting with the project.
But Andrew, ever the playful antagonist, resorts to highlighting his shortcomings throughout without clear resolution. He calls out an unidentified person for thinking he's a "worn-out sadsack" on Sekwar, very likely projecting himself as such, though he chooses to fight back. While on King of the Crooks, he reflects on a crucial moment of self-realization in his young life—though, in true Liars fashion, he omits the messier details. But the stylistic musical detours he accompanies them with are just as tenebrous and compelling, whether he ominously sing-speaks over throbbing electro beats or finger-snapping Brill Building pop with a dark bent.
Andrew balances the richness of his arrangements with restraint, though he invokes his wildest impulses when the time calls for it. My Pulse to Ponder poses a return to his art-punk roots, where he and his bandmates balance spooky guitars and dark cabaret as he threatens to "cut your throat" with his deep baritone. Andrew opts for more traditional songcraft on From What the Never Was, which suits his ambitions to aim high with cathartic resonance. "I was running from it all with a hunger to burn," he admits in one of the album's most emotional moments, leading with a dissonant arpeggio that mimics some of Radiohead's most accessible works.
Andrew's cryptic imagery (and High Places' Mary Pearson Andrew, who helped write some of the lyrics) inspires a lot to unpack on The Apple Drop, which, to its credit, makes it one of his most tense, thought-provoking, and clearheaded. Which, surprisingly, he wrote while taking magic mushrooms. Regardless of how he got there, he pushes his songs forward with just the right amount of old and new—all without losing his adventurous drive. He takes us into the darkest hallways of his mind with, ironically, a rejuvenated zest.
10 August, 2021 - 05:58 — Juan Edgardo Rodriguez