Music Reviews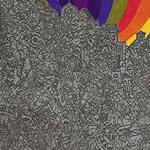 Lightning Bolt Wonderful Rainbow
(Load)
Buy it from Insound

The Providence, Rhode Island seek-and-destroy rock duo known as Lightning Bolt return with their third full-length release and the follow up to 2001's critically acclaimed Ride the Skies. The premise remains clear however, crafted and inspired to simultaneously churn stomach bile and mutilate eardrums. But this time around bassist/guitarist Brian Chippendale and drummer Brian Gibson lend a bit more melody, if you will, on Wonderful Rainbow. Gibson's percussion is straight-up guerrilla warfare (think the Jesus Lizard meets Atari Teenage Riot - it's fucking scary), while the tweeter-shredding guitar squelch provided by Chippendale evokes thoughts of a drumstick-wielding Thurston Moore (who recently allowed them to headline some east coast SY shows) snacking on crystal meth.
The opening composition Hello Morning is patented, bombastic Bolt, the first minute serving as a warning for any last minute bail outs before the inevitable, ensuing madness. The nimble chords resonate on 2 Towers, Crown of Storms and On Fire, but it's the latter that steals the show on ...Rainbow with its unexpected guitar riffage popping up mid-song, allowing the track to rally around it to the bitter end. The self-destructing crescendo arrives in the manic Longstockings, while 30,000 Monkies sounds like, well, about a few thousand primates pummelling Eruption-era Eddie Van Halen into submission.
Horror rock, avant-garde, art experimental, call it whatever, but know that the eye-twitching, blackout noise rock served up by Lightning Bolt remains the ultimate in unabashed, neck-throbbing rock and roll music.
11 May, 2003 - 04:00 — Chris Conti