Music Reviews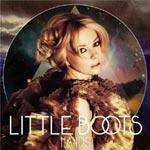 Little Boots Hands
(Sixsevenine)
Buy it from Insound

In January's A Question of Sound column – essentially a review of other people's tips for 2009 – I was pretty enthusiastic about Little Boots' chances of success.
Her debut single Stuck On Repeat , which was co-written and produced by Hot Chip's Joe Goddard, had just featured in Pitchfork's Top 100 Singles of 2009, providing Little Boots with instant indie credibility. Meddle was another promising track and after making waves at SXSW, the signs looked good for Victoria Hesketh, the 25 year old Lancastrian behind the Little Boots moniker.
Little Boots' full length debut, the curiously named Hands, was released earlier this month to generally positive reviews, but having been blown away by Stuck On Repeat last year, I can't help but feel slightly disappointed by the fact that nothing else here comes remotely close to that track's brilliance.
Hands kicks off with its lead single New in Town, which is perhaps part of the problem; Stuck On Repeat was clearly a notch above the work of contemporary female pop acts like Lady Gaga and La Roux, but this bright and breezy offering just feels like commercial conveyor belt pop. Earthquake fairs better, but quickly fades into irrelevance when the throbbing synth pulses of Stuck On Repeat begin. I know that's the fourth time I've mentioned this song, but it still sounds a cut above the competition.
Click is let down by its primary school lyrics ("We click like two parts of a puzzle / now I'm all in a muddle" etc.), but Remedy quickly raises the bar again with a slightly edgier take on European dance-pop, produced by RedOne (Akon, Lady Gaga). Hands' first half concludes with last year's single Meddle, which worryingly ends up being the album's second most enjoyable track.
The second half of the set is very much a mixed bag. The Phil Oakey duet Symmetry is great fun, but Ghosts and the lightweight 80s pop of Tune Into My Heart should have been sacrificed in order to tighten up the record.
Hands isn't the Little Boots album I was hoping for, and in truth it adds very little (only Remedy, Symmetry, Earthquake, and maybe Mathematics) to last year's Arecibo EP, which featured both Stuck On Repeat and Meddle. It's too flabby to listen to as a whole, and unless the label decides to re-release Stuck On Repeat (which isn't a bad idea actually) there's nothing here strong enough to force a mainstream breakthrough.
24 June, 2009 - 14:57 — David Coleman