Music Reviews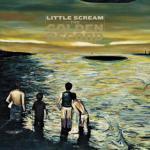 Little Scream The Golden Record
(Secretly Canadian)
Buy it from Insound

If you slightly recall being exposed to newcomer Laurel Sprengelmeyer, aka Little Scream, amongst the random samples you've tried this spring, you probably heard the mollified acoustic guitar and gracious lyrics of the single, The Heron And The Fox. If you dismissed the rest of The Golden Record in fear of getting sucked into nine additional tracks of sweet and folksy minimalism, you'd be doing yourself a disservice. It appears this freshman is quite the explorer.
Nowadays, looking for depth in a new artist is like checking to make sure there are two shoes in a box before a purchase. It has to be there. If we all follow this pattern we can save the world from manufactured artificial talent. The old soul quality in Sprengelmeyer's songwriting acts as a prerequisite to sink deeper into her work. The Golden Record, mistakenly pinned as a haughty prediction of self-actualization, is named after the records taken up by the Voyager spacecraft in 1977, which were intended as an offering to extraterrestrial life forms as a symbol of our earthly competence. Little Scream, filled with ironic references and middle-America fairy tales, didn't arrive at this scene alone. Her support system includes co-producer Richard Reed Parry (Arcade Fire & Bell Orchestre), collaborations with Aaron Dessner (The National), and a mixture of members from Snailhouse, Silver Mt. Zion and Stars. Not bad company.
The Heron And The Fox, the track that's scoring a spot on rainy day playlists all over the world, appears to be the big hit on the debut album. Accompanied by Dessner, this requiem of a trucker's life has a beautiful rolling melody and serves as a formal introduction to her refined vocals. There's a very organic, ethereal tone in this song and sometimes you feel like she's making a heartfelt plea for understanding. The simple shape offers a clean groundwork for the hexing voice and intricate lyrics. It follows a Kaki King or PJ Harvey type of formula. Even though we're not dealing with anything supremely new here, her ability to create a pleasurable assortment is what leaves an impression.
Similar flavors of mellow include Black Cloud, The Lamb and Hallowed. If you're pressed for time and only want the Cliffs Notes version of this grouping, try Black Cloud. All of these tracks are decent, but Black Cloud comes with a hook and the opportunity to sing along. The other two sound more like improvised poetry in motion. Initially it might seem like People Is Place would also fit in this category, but the slow reverb effects and spacey accents move this one from mellow to mournful. To support the idea of the album being like a box of chocolates, try Red Hunting Jacket for a change up. The bouncing beat is a nice chaser after all the melancholy. Although, be sure to savor the energy because even though Cannons has a fun tempo and some psychedelic side effects, it remains fairly linear throughout. It has the potential of being a powerful, boisterous song if it had more range and texture, but it falls a little flat by the end. Guyegaros and Boatman stand out as the vanguard pieces that seem risky, but are hopefully appreciated in the spirit of variety. Guyegaros was inspired by a tale of a rough Mexican priest who wore snakeskin boots, carried a pistol and played the guitar. It's a rugged, western showdown dirge that makes you want a warm shot of whiskey. Boatman is a light blend of symphonic rock with a marching tempo that gets a little too repetitive for my liking.
Overall, I can honestly say that I enjoyed Little Scream and I'm interested to see what she'll do next. Her exploratory nature is alluring and you can tell that she won't be afraid to express herself creatively, but she also might be willing to taste the forbidden fruit on the evil side of the music industry. If she stays true to her roots and continues to choose the right people to work with, she could be comparable to Patti Smith or Dusty Springfield in the future, emphasis on "could be". I recommend keeping an eye on her.
7 May, 2011 - 12:51 — Randi Dietiker