Music Reviews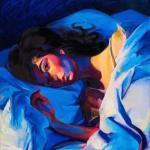 Lorde Melodrama
(Lava Music/Republic Records)

"We're King and Queen of the Weekend/Ain't a pill that could touch our rush/But what will we do when we're sober?," Lorde asks towards the start of Sober, among submerged beats and mountainous brass. But Melodrama isn't strictly about inebriation. It's about growing up and growing out of love, where the excitement of a relationship fades and what's left can't sustain itself. This album explores this segment of adulthood in all its joy, despair, confusion and revelry. And it does it with stunning introspection and musical freshness.
It's all here: the highest highs and the lowest lows. On Homemade Dynamite, Lorde and her significant other are "A couple rebel top gun pilots/Flying with nowhere to be." The rolling, sharp percussion and woozy synths further the sensation of gleefully giving into out-of-control desires. The Louvre lays back with a memorable Springsteen-esque guitar and anthemic keys. Here, Lorde's so in-love that she demands, "Megaphone to my chest/Broadcast the boom, boom, boom, boom/And make 'em all dance to it."
Then the relationship ends. Hard Feelings/Loveless simulates this loss with buried drums and pitched-warped synths. It's the sound of a raw heartbreak, where your stomach turns and nothing feels, tastes or sounds right. Sober II (Melodrama) drains the color out of its predecessor, leaving somber strings and inner turmoil. Those dazed, shocked emotions burst into grief on Writer in the Dark. As Lorde sings, "I am my mother's child, I'll love you 'til my breathing stops," her voice barely keeps it together. It's impossible not to get a bit choked up yourself.
But it's through the break-up and the sadness that Lorde finds her way to the other side. In Liability, she's wounded and alone, but learns to love herself and her own company. "I know that it's exciting running through the night/But every perfect summer's eating me alive until you're gone/Better on my own," she sings, trying to reach a level of acceptance. The piano, sounding like a minor key wedding march, underscores the lyrics beautifully.
In the bubbling electronica of Supercut, while she has regrets, she focuses on the good memories that she'll carry with her. Perfect Places, with its fuzzed synths and body-shaking beat, sounds like a festive ending. But Lorde sings, "All the nights spent off our faces/Trying to find these perfect places/What the fuck are perfect places anyway?" All the parties and vices can't hide the imperfections in the twilight of your teenage years. The euphoria that's created is fleeting.
Yet, it's in the opener, Green Light, that Lorde not only reaches the point of true elation, but writes it for us, too! "But I hear sounds in my mind/Brand new sounds in my mind," she sings, as an electrifying piano appears over a scampering rhythm. Then the chorus erupts with the sensation of going from gray monochrome to Technicolor. It's a glorious, universal song built for dancing and shouting through your pain.
It's through Melodrama that Lorde experienced and came to terms with her split. In doing so, she didn't just write an excellent, expansive album that pushed her boundaries in all directions. She underwent a journey of catharsis. With a dazzling set of songs, she's also given other broken hearts a path to the green light at the end of the tunnel. [Believe the Hype]
21 June, 2017 - 02:29 — Joe Marvilli