Music Reviews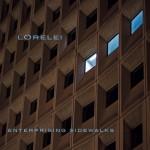 Lorelei Enterprising Sidewalks
(Slumberland Records)
Buy it from Insound

Having been among the first bands on the Slumberland Records roster back in the late 80's/early 90's, Lorelei are in a particularly envious position in regards to their ability to play around a bit with the labels' aesthetic. They are not the new band on the scene. They are the influence. They spent years, along with other bands like Lilys, Velocity Girl, and Black Tambourine, creating the sound that the label would eventually become known for. And as such, they're not as obligated to conform to any label-specific musical touchstones that more recent label signees such as Allo Darlin' or Violens might be. It's particularly obvious from the first minute of opening song Hammer Meets Tongs that the band knows exactly what their fans think they should sound like, but that they're also not particularly eager to pander to anybody, even those same fans. Lorelei use these expectations as musical stepping stones to create something that's both indebted to their past releases and also manages to sound original and free of affectation. The vocals sound deeper and more resonant than you'd expect from a Slumberland artist, and the songs just feel fuller and more fleshed out than some of their jangle-pop label mates. There's an emotional heft and weight to these tracks that makes other releases on the label seem anemic in comparison.
Enterprising Sidewalks is Lorelei's first album of new material in 18 years, and despite this long musical sabbatical, the band feels as comfortable and at ease with each other as they did on their debut 7", 1990's The Bitter Air. In those intervening 18 years though, we've had dozens of bands willing to take up their jangle pop mantle and carry on the traditions that Lorelei and those other early artists began. And with these newer artists, many of them on the Slumberland roster, showcasing new and interesting takes on what has by now become a fairly familiar genre, do we really need one of the progenitors of the sound coming back into the fold after all these years? The answer isn't resounding by any means, as this record does make its' fair share of missteps, but Lorelei make a concerted effort to show their continued relevance in this crowded genre. And after spending some time with this record, you do begin to hear their excitement and commitment to this music. The band knows what they're doing, make no mistake about that. But with so many artists doing this kind of glossy pop/rock, you begin to feel a little over saturated. There's nothing wrong with being a traditionalist, even if you're a traditionalist with a slightly wild streak, but you have to bring something new and memorable if you're going to stand out.
And in that respect, Lorelei do stand out, though it's debatable whether it's enough to distance themselves completely from their current label peers. What Lorelei do have that few other bands on this label have is a single-mindedness that borders on obsession with regards to recreating and expanding their already well established sound. They already know what they are capable of, but with Enterprising Sidewalks, the band moves outside of their comfort zone and piles on the muscle, letting the layers of surging guitars and My Bloody Valentine-esque distortion play call-and-response with the softer more traditional aspects of the Slumberland sound.
Opening track Hammer and Tongs sounds very much like a castaway from the recording session of Interpol's Turn On The Bright Lights. The initially atonal vocals, post-rock fortified guitars, and distinctly jagged sound of it all shows the band moving away from any sort of predetermined course and veering into the deeper recesses of what could be described as shoegaze-meets-post-rock. But it seems a difficult job to consistently reconcile these two influences as the band switches back and forth between them throughout the record. Majority Stakes is one of the most successful songs here with it plowing distortion and memorable guitar lines that would make Kevin Shields proud. Both Three Interlocking Screens and Dismissal Conversation bring out the waves of razor-sharp guitars and unwavering vocals that all but shout for them to be heard through some 1,000-watt sound system. We're well away from the kind of shimmering jangle pop that most people would associate with artists on Slumberland. But for every song here that manages to combine these musical ideologies in a way that seems natural and unforced, you have songs like Let Go Of Our Ego and Measured In Fingers that never quite make the case for their own existence. They are pleasant and don't necessarily warrant you reaching for the Next button on your CD player or iPod, but when you're listening to them, all you can think of is the last time you listened to Loveless or Spiderland.
Slumberland Records has been in a continual state of evolution in the last decade and Lorelei are well aware of that fact. I think it's because of this understanding that they've managed to navigate the often nondescript pop/rock landscape without sounding tired or affixed to any particular musical philosophy, even one so ingrained as the Slumberland aesthetic. Enterprising Sidewalks may not be the best album released on the label this year, or even Lorelei's best album for that matter, but if the band can continue this kind of determined progression, it leaves me with hope that both the band and the label will grow with each new release and that Slumberland will finally be recognized for its achievements and take its rightful place alongside the best indie labels of the past 20 years. Hell, they're practically there already.
16 August, 2012 - 11:47 — Joshua Pickard