Music Reviews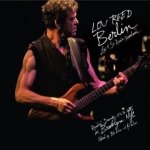 Lou Reed Berlin: Live at St. Ann's Warehouse
(Matador)
Buy it from Insound

The legend of how 1973's Berlin derailed Lou Reed's solo career is a familiar one. Following up the success of Transformer with an album whose mood and tone were only a notch more optimistic than Nico's The Marble Index, was either a deliberate FU to his burgeoning audience or just colossally bad timing. It's worth considering the former, especially in the light of Metal Machine Music, the double album of pure feedback released two years later, but I think this new live album proves it was the latter. I think Lou feels his most ambitious concept album was wrongly overlooked by both the public and the critics of the time. He's absolutely right, and the album's reputation has recently been salvaged by long time admirers in the press, slapping on the "lost classic" moniker for good measure. For my part, I admire commitment to an idea, and Lou goes all in on this album, steeping himself so deeply in the romantically decadent vision of the city many artists had at the time that its sense of opulent doom is palpable. Lou must know he got to a place few artists ever find themselves and to see the whole thing unjustly ignored must have really stuck in his craw.
So in 2006 Lou set out to right this wrong by performing the album live for several shows in New York with enough musicians to reproduce it properly. Others have attempted this gambit before (think Roger Waters' The Wall) but rarely to any great effect. Since Lou's concerts there have been revivals of Exile and Guyville and Astral Weeks (Oh, how I wish I was there for that one), which should give you an idea what a good idea this turned out to be. In fact Reed, who frequently sounds like he couldn't give a shit live, tries very hard to get these songs across. Every one gets a big finish and attention to detail is paid. That means that most of the original arrangements and Bob Ezrin's orchestrations are intact, beefed up by some hard driving guitars. Some songs, like Caroline Says and How Do You Think It Feels, get a lively workout at the end, juicing up the crowd. If you're familiar with original there are not a lot of surprises (other than Lou's newfound intensity), and if you're not then go immerse yourself in it and then come back to this. I'm not going to review the original album since there's way too much to say in too small a space. Suffice to say it's unique and worth giving a try. You may end up loving it or hating it, but its hard to ignore if you've heard it even once. On the live album you're also treated to a few "bonus" tracks, including an affecting Candy Says sung by castrato singer Antony, and the mandatory Sweet Jane, where Lou reverts to his typical stance of indifference.
This is definitely a different experience from the original, whose baroque arrangements and claustrophobic sound really set it apart. But the live energy compensates by opening up the songs and inviting us in. This is about as musically adventurous as Lou ever got and those who think he could only toss off simplistic three-chord tunes are advised to listen closely. Berlin turned out to be a place well worth revisiting.
26 November, 2008 - 16:18 — Alan Shulman