Music Reviews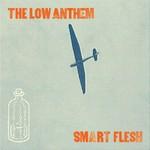 The Low Anthem Smart Flesh
(Bella Union)

The Low Anthem's 2008 debut, Oh My God, Charlie Darwin, never really got the recognition it deserved. There was a kind of nostalgic timelessness to parts of that record, like the band had tapped into something the hippie movement missed. But perhaps what prevented it from being truly great were the two very distinct sides to the music that made it feel a little disjointed. Alongside the melancholic slow-movers were a bunch of raw, up-tempo blues rockers that worked well on their own, but upset the balance of the album as a whole.
It's in redressing this balance that Smart Flesh succeeds. The new album is a more cohesive collection of songs, relying mostly on acoustic strings and ghostly reverb and less on distorted Fenders. Ironically, probably the highlight of this record is the loudest track: Boeing 737, with its pounding beat and brass fanfare, is fantastically uplifting. Hey, All You Hippies! is the only other track that even approaches loud, but its measured pace fits well with the rest of the album.
Elsewhere, as with the better half of the first album, it's all about sparse acoustic instrumentation. But somehow, much of this lacks the emotional impact of the band's debut. Although they seem to have settled on their sound a bit more this time round, it's perhaps that which prevents the album from really taking hold: this is slow, downcast music, and the lack of energy makes it very hard to focus for the full duration. It's pretty, but it lacks any melodic inventiveness to really hook you in and make you feel what they're feeling.
This is the kind of music that is probably great fun to play as part of a band, but as a recording it's a largely hollow experience. And while it shares many similarities with the quieter side of their first record, it never quite achieves the same heart-rending beauty we know they're capable of.
10 March, 2011 - 20:00 — Joel Stanier