Music Reviews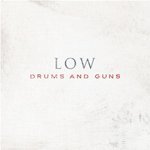 Low Drums & Guns
(Rough Trade)

In which Messrs Sparhawk, Livingston and Parker take their Bowie-esque reinvention a step too far? A big question. I remember reviewing the Duluth trio's last release for No Ripcord. I described it as "stunningly good," and it was my album of the year, which means that Drums & Guns has a long way to go to catch up. Low do quite well in my book: Things We Lost In The Fire is one of my all-time favourite albums, and everything else they've released has been simply wonderful.
This makes reviewing Drums & Guns quite difficult in actual fact, because on first listening I didn't really like it. I didn't expect that, I was quite excited by the prospect of a new Low album - they are after all by far the finest at what they do, and even when they turn their hand to something a little different as one 2005's The Great Destroyer, they do it so, so well.
So what do we get with this year's model? Well it kicks off as can be expected from an album billed in its press release as the most important album of the year: Pretty People fades in on a wave of spiky guitar noise and feedback, certainly as immediate in sound as Monkey on The Great Destroyer. It's bleak in its fatalistic lyrics and stark delivery, accompanied by a gallows tattoo reminiscent of Mogwai's Auto-Rock. But the switch into Belarus will really throw you, and this was my first qualm: it doesn't transition well at all, at least here. It's also fairly bewildering in that Belarus is not built on spacious guitar and minimal accompaniment: it takes a leaf from, well, anything on the Leaf label, its glitchy electronica beat and violin loops catching you off guard. The following tracks all contain much of the same building blocks, atmospheric percussion loops and disorientating instrumental accompaniment. It was at this stage that I first had the notion that maybe Drums & Guns was a little too much of Dave Fridmann, a little too little of Low. That maybe the producer, best known for being almost an extra member of Mercury Rev and the Flaming Lips, has imprinted something of his neo-psychedelic template on the record resulting, as with recent releases from both the former bands, in somewhat overblown, forced gestures.
Now, there's certainly moments of genius in these tracks, but on first listen they're somewhat buried under the weight of expectation. But then you reach Sandinista and Always Fade, the pivotal, centrepiece duo of the album. Sandinista begins with martial drums and progresses into the fairly intense vocal harmonies that we're used to. This is classic Low, politicised yet not polemical, aware but still serenely beautiful despite the strident themes under discussion. Always Fade follows, and it's completely different yet equally beautiful. It commences with another of those drum loops, tinted with subtle echo and backed by an almost (whisper it) funky bassline, but what captures the attention is the beautiful melody, again subtle and simple, yet one that will whisk you away on its wings. There follows in the song a fascinating breakdown of the central drum loop where it nearly collapses in on itself to impressive effect, and it's at this point that your opinion of the album may start to reverse. For me, it was at this point that I got my head around the new, radically-altered Low and learned to appreciate them for what they are.
Because it's still Low, it's still the band that can haunt your waking and sleeping mind with a single vocal flourish, who can make a single chord last forever, who can rightly lay claim to one of the finest vocal partnerships you'll ever hear. Maybe they're wearing different clothes today, maybe they're adapting different themes, but they're still Low: they can still be breathtakingly beautiful. And only when you remember this in context with Drums & Guns can you go back and listen again to the tracks you glossed over first time around a pick out the delights within. This is probably the hardest Low album I've heard to appreciate, but it's certainly worth it. The most important album of the year? We'll see, but you won't have seen the back of Low.
16 April, 2007 - 19:34 — Simon Briercliffe