Music Reviews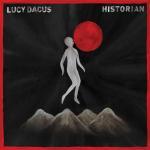 Lucy Dacus Historian
(Matador)

Lucy Dacus's debut was all the more exciting for its perceived flaws. The rough-hewn edges of No Burden may have been the byproduct of a single day recording session, but the result never felt like an afterthought. Melodically and lyrically clever, much of it pushed against expectations of what an indie songwriter should be. It emoted and it empathized. It felt youthful and genuine.
In the intervening years, Dacus's star has risen. Historian was a highly anticipated album, but the universal acclaim makes me wonder whether she had been preened for the media darling role by a highly experienced hype machine. There should be no question of her talent and abilities, but the now and then comparison, though not exactly stark, is enough to raise an eyebrow.
There's nothing lacking on Historian that's easy to pinpoint, except that there's a certain emotion that seems to have been scrubbed from it. No Burden was evocative in a way that this newer release should be, given its emotional foundation. Some of the best art has been borne of tragedy, and perhaps Historian could have approached that level of intensity if it hadn't been varnished so heavily with professional engineering. Part of what felt so sincere the first time around was the production: high school friends, Oberlin conservatory grads, no label. With John Congleton on mixing duties, we can take things like orchestration for granted. It doesn't feel out of place – it feels expected. It feels boring.
It's my burden of proof to show evidence of absence - I'll try. There's a goosebump-inducing croon that occupies a few measures of Green Eyes Red Face, from Dacus's first album: "I see the seat next to your is unoccupied/and I was wond'rin if you'd let me come and sit by your side/and I've got plenty of affection/I'd be glad to show you sometime," an otherwise liltingly lovely but unremarkable song. Similar moments pepper the entirety of the album, and yet are conspicuously missing from Historian. The only thing that comes close for me is the bassline on The Shell, but the on-the-nose spooky intro sound effects paired with (comparatively!) lazy lyrics ("I'm a ghost/walking in a boring dream/you are there/talking and I'm not listening") kill the mood quickly.
While Historian certainly has some strong numbers (both of them singles and back-to-back at the top of the album, funnily enough), their effect is muted. Night Shift, the first track, has a memorable chorus and bridge, but it is entirely too predictable to stand up to Dacus's earlier work. Worse, there are derivative elements on Historian, probably another side effect of relinquishing production to the pros. Previously, we could hear Dacus's influences, but now they seem more purposefully inserted. Addictions sounds like a quieter Liz Phair track if she could carry a tune, while Yours & Mine would easily feel at home on a Neko Case record.
"I demand we talk about how disappointing Historian is," a friend complained to me on release day. "It's genre work!" I find it hard to disagree. On its own, Historian is a solid indie rock record: enjoyable, though not particularly memorable. It's as though Dacus's best parts have been filtered through a focus group – just imagine what it could have been with the patina scraped off.
Correction: An earlier version of this review suggested that John Conglteton was the sole producer of Historian. It has been amended to clarify that Conglteton was responsible for the mixing, and production credits go to Jacon Blizard and engineers Adrian Olsen and Preston Cochran.
14 March, 2018 - 14:27 — Gabbie Nirenburg