Music Reviews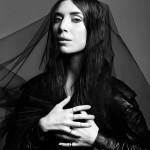 Lykke Li I Never Learn
(LL)
Buy it from Insound

By the sound of it, Lykke Li has plenty of people to thank for her recent success--most of them being the array of lovers she sings about in I Never Learn. While her sophomore effort, Wounded Rhymes, reveled in lustful passions shaded grey and black, Li's latest record is an unabashed portrait of a woman in the throes of heartbreak. What makes this so compelling, however, is the subtle eagerness she injects into every lyric and vocal, as though the best and only time to sing was soon after a breakup.
Arguably one of the most interesting players in pop music today, Lykke Li's ability to glamorize an aesthetic usually saved for emo bands or popstars trying to be edgy is undeniable, and she makes use of it from beginning to end. I Never Learn is accessible—it is a little over half an hour long and every track borrows from the same tuneful, lighters-in-the-air sonic template, with glorious choruses (Never Gonna Love Again, No Rest For the Wicked) intercalated with soft verses oozing vulnerability (Love Me Like I'm Not Made of Stone). And yet, it does not sound generic or overwrought. In fact, Li has never sounded this comfortable in her grieving romantic persona until now.
Which is not to say she doesn't get too comfortable. Though Lykke Li could easily be considered the kind of performer whose art is defined by quirks and creative singularities as opposed to straight-up technical talent, some slightly more polished vocals wouldn't hurt. Although the acoustic ambience of Love Me Like I'm Not Made of Stone is an interesting rhythmic break from the pace of of the more anthemic tracks surrounding it, Li's singing has a cracked, nasal quality which is painful to listen to. In other moments, such as when the swirling pathos of songs such as Just like a Dream crash headfirst with lazy songwriting (''Come back to me/Just like a dream'' and repeat), the result is a rather cringe-worthy explosion of sentimentality.
For the most part, however, it is this romanticization of heartbreak that makes I Never Learn memorable. Tracks like Gunshot and No Rest For the Wicked are celebrations of loss and despair in the best way possible. Even the simple honesty of Li's songwriting at its best only serves to augment the drama, as seen in the opening lines of Silverline, for example: "Don't wake the dreamer/don't shake the axis''. Or the bullet metaphor of Gunshot: ''And the shot goes through my head and back/Gunshot, I can't take it back'' (loving the slamming percussion reminiscent of actual gunshots right after this line). More so than Wounded Rhymes or Youth Novels, I Never Learn is a record for a radio-loving crowd who wouldn't have a problem with the lack of variety in content matter or the relative sameness in sound and composition. It doesn't pander to current production trends, but it targets the same audience as the Katy Perrys and Taylor Swifts of the pop world. Just a couple more lovelorn power ballads and it might even win that audience over for good.

12 May, 2014 - 04:57 — Luiza Lodder