Music Reviews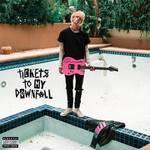 Machine Gun Kelly Tickets to My Downfall
(Bad Boy/Interscope)

The career of Colson Baker, more commonly known as Machine Gun Kelly, has a lot of loose ends and question marks. Why did he appear in the Mötley Crüe biopic The Dirt? Why does his biggest hit interpolate Fastball's hit Out of My Head? Why does his music traffic in trashy, hyperbolic cliches? Why is Travis Barker of Blink-182 collaborating with him? The simple answer comes crashing through with MGK's fifth effort, Tickets to My Downfall: he's always been a rock kid at heart, so he's made a pop-punk album. Here's the twist: the annoying melodrama that made his rap material so exhausting is what gives his new music some real power. For the first time ever, the instrumentation suits Baker's natural whine.
Nowhere is this album better explained than on Concert for Aliens, Downfall's second single. Over crunchy guitars and acrobatic drum work, Baker crafts the best late-period Blink-182 song since Rabbit Hole. Baker's aggravated call of SOS, when paired with a dynamic opening riff, almost recalls the snotty work of mid-2010s State Champs or Neck Deep, just without the double bass-drum attack of the latter. But while Neck Deep veered off into American Idiot-esque alt-rock on their 2020 concept album, Machine Gun Kelly is oddly supplying the goods when it comes to bubblegum punk. On cuts like Jawbreaker, kiss kiss, or the opening title track—the latter of which is fitted with ska "yeah yeah yeah" adlibs—the hooks don't let up. These are empty calories, but who cares when they're this catchy?
While this album is a stylistic pivot, it's not a repudiation of what Machine Gun Kelly stood for before this. "I'm still young wasting my youth, I'll grow up next summer," sings Baker over trap hi-hats and driving pop-rock guitars on Drunk Face, a promising but ultimately juvenile ditty. On WWII, a minute-long track that recalls the joke songs on Blink-182's 2016 album California, he opens the song by asking "Who the fuck are you to tell me what to do?" With moments like this, it feels like the same old Machine Gun Kelly is here but with an Alt-Press sheen.
It doesn't feel like Machine Gun Kelly is letting go of who he used to be. He opens this album singing that he's off his meds and thinks that everyone is out to get him. His attitude is the same, but most interestingly on an album of pop-punk, his old emo-rap collaborators appear again. On All I Know, an album low point that sounds dangerously close to lead single Bloody Valentine, you've got Trippie Redd sounding half-asleep. Just a song earlier, you've got Halsey nailing the hyperbole of Forget Me Too, a ridiculous break-up duet that feels campy at best.
The best collaborator on Tickets to My Downfall is, weirdly, Matthew Musto, more commonly known as Blackbear, a sleazy pioneer of misogynistic emo-rap. While Musto has his own embarrassing connections to pop-punk, it's amazing how good he sounds over the trap-punk of My Ex's Best Friend. His verse is typical bro-R&B shit ("First of, I'm not sorry, I won't apologize to nobody"), but the ambient pianos and skittering percussion helps sell his excessive whimpering. Still, Blackbear is only the second best performer on this song, as My Ex's Best Friend is the perfect advertisement for Machine Gun Kelly as a pop-punk shit head. His vocals convey the excitement of a midnight rendezvous, while the chugging power chords provide the song with some much-needed power. At the very end of the song, everything drops out except for the vocals and hazy trap production. It's genuinely one of the great songs of the year, but it's also an important reminder to us all that we should be grateful for Downfall. If MGK wasn't doing sugar-high inducing punk-pop, he'd be making way worse music.
1 October, 2020 - 07:11 — Ethan Gordon