Music Reviews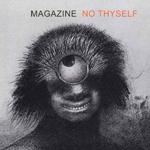 Magazine No Thyself
(Wire-Sound)

It was punk rock's anger that led Buzzcocks founder and frontman Howard Devoto to question his purpose and exit the group after the band's very necessary first release, Spiral Scratch EP. As if having predicted where first wave punk rock was going to be and how it was going to sound over the next couple years after '77 left an impression, bands like Wire and Public Image Ltd. also having made similar creative leaps, Devoto tapped into the more theatrical and sophisticated side of his personality for Real Life, the debut album from his next band, Magazine.
Real Life is a very significant release for the then-germinating post-punk genre; its swarming synthesizers and jazz/funk timing perfect for Devoto's flamboyant delivery and weird enough to gain attention from any fringe sect of music fan. To call the album "weird" isn't at all to its detriment and almost as if to continue following in the footsteps of John Lydon, the Sex Pistols having influenced Devoto to start a punk rock band in the first place, the less rebellious and more artful approach to music that Devoto took seemed a vision shared by the equally ambitious Public Image Ltd. A new point at which the raw sensibilities of punk rock could be applied to a more cerebral device or mode of conveyance was in play. Basically: "We've moved on. Fuck you if you can't take it."
Nearly three decades passed before Magazine found itself reactivated and No Thyself is their first album since 1981's Magic, Murder and the Weather. No less the dramatist with his enunciations and words, Devoto, now almost 60, still manages to belt out both the straight ahead rock track and the strange brew of synth, funk and jazz, Magazine's construct still attentive to its own identity. This is confirmed once the album's intro, Do The Meaning, is brought to life by the rhythm section. I experienced waves of familiarity, relief and enjoyment, the 30-year absence of studio output from this very top-form band, through no fault of their own, propagating a strong level of dread. It's not uncommon for these reunions to tarnish a band's rep, (The Stooges' The Weirdness album certainly comes to mind), but No Thyself certainly maintains Magazine's sound even if it does represent an obviously aged iteration. Despite that, the vulgarities following with Other Thematic Material were surprising to hear, Devoto detailing various sexual scenarios which bookend inane conversation: "I'm gonna push up your top/Up over your tits… like this/ I'll unhook your bra and give your nipples… a taste." That's honestly as polite as it gets, the perception of mental undressing vs. his physical engagement. At least, that's how I perceived it.
Beyond that, Devoto allows the music to supply most of the album's provocation, though lines like "I get absolutely no pleasure from singing this song," (The Worse of Progress…) or "I love a simple solution… along with the rest of them," (Of Course Howard (1979)), standout as personal one-liners, attention given to their inflection, maybe special consideration made to ensure their clarity. The slower the song, the more Devoto seems invested, though he has a lot of fun with the very absurd and amusing Hello Mister Curtis (With Apologies), an ode to famous rock suicides Ian Curtis and Kurt Cobain: "Hello, Mr. Curtis/Hello, Mr. Cobain/Tell me where the hurt is/Tell me exactly… now, where is the pain?" Devoto's jabs are severe from a poetic standpoint, but also remarkably self-deprecating, his own death, which he decides will not self-inflicted, to be met on "some godforsaken toilet" like "The King," or "Elvis." Hello Mister Curtis is the type of goofy art rock perfection that follows something like The Great Beautician in the Sky, one of Real Life's gems, which offers Magazine a chance to basically have a laugh while not taking themselves too seriously.
Other jazz/funk tracks like Happening In English, or the relatively straightforward Holy Dotage, provide the album more guitar-oriented energy, Physics and Final Analysis Waltz functioning more as Nick Cave-ish alterna-ballads. No Thyself ends with The Burden Of A Song which evokes Real Life's The Light Pours Out Of Me, a high tempo backbeat and champion-tinged riffs.
While Magazine's No Thyself works mostly to reestablish the band after thirty years of silence, it's a welcome inclusion to their canon. Like Wire's Object 47 and even Bauhaus with their 2008 release, Go Away White, Magazine manage to retrace where they left off, rediscover their intricacies and do an excellent job at defining themselves for, what one can only hope will be, new generations of listeners. In the meantime, Devoto's aspirations to die on a toilet will hopefully be unmet. After all, old age seems to suit him well.
6 December, 2011 - 03:56 — Sean Caldwell