Music Reviews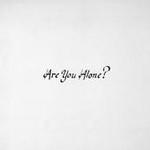 Majical Cloudz Are You Alone?
(Matador)
Buy it from Insound

A peculiar feeling of repose and stateliness surrounds the music of Majical Cloudz, a duo that compresses elephantine emotions in dense, minimal suites. There is no place too small for them to occupy, sculpting simple ideas into grand gestures that are filled with beauty and awe. Their adherence to a certain impersonality, at least in presentational terms, manifests a sheer absence of being; the album covers are coated in delicate hues of white, and the only text you see is the title itself, though they're always carefully chosen words, meaningful and exact. It enhances the album's intent and leaves a slight bit of guesswork before even considering a single sound, even if you can surely ascertain the mood it sets to achieve.
Notice the question Magijal Cloudz poses, and how they position it right in the middle in elegant cursive: "Are You Alone?" The emphasis seems more pragmatic than rhetorical, and the way it's presented makes us believe that primary lyricist Devon Welsh has long buried the hatchet with a past love. Even if his words give an appearance of passive serenity, the past is still alive: "If you won't be seen again / I hope you know you were my friend / And in my head the world will never hurt you", he evocatively laments with a distinctive weight in his words in the album's opening track Disappeared, stressing that he harbors no ill will. That doesn't mean that a part of him waits, as if there is a passive-aggressive tension lingering in the distance that separates them.
Are You Alone? is about self-rehabilitation as much as it is about calm introspection, an absorbing and deeply personal listen that gives Welsh the chance to reassure himself that solitude only exists relative to its opposite. But it's not only about Welsh's own heartache: in the title track, he counsels someone with the words "I don't know what I would not do to know", deeply invested in his friend's well-being. So what initially sounds like a breakup record quickly becomes a contemplation on a theme that hits a universal nerve, presented in a conversational tone as opposed to preaching a vapid, "we're all in this together" stance.
Welsh is not one to intellectualize with impenetrable metaphors. There's a sincerity and directness in his voice that enhances his highly preoccupied thoughts, like in the spellbinding Heavy, where he implores "You gotta learn to love / Cause I am what I am", a sentiment as elemental as any that's elevated by its stammering percussion and incandescent ambiance. There's not a thought that escapes him, his tone beautifully articulated and gently paced, declaiming every word as it comes to him without ever considering the album format's time constraints. There are times in which he'll repeat similar concepts in pursuit of clarity, so when he first begs someone to let him change in Control, he later recognizes that he's feeling that change even if the circumstances lead one to believe that what little they have cannot be salvaged.
That Welsh allows himself the space to second-guess things, narrating by way of self-analysis, gives the illusory impression that he's detailing a natural progression. It's a fascinating way of sequencing a record, even if at first it may not be as readily apparent. He lets things run their course, telling himself constantly that it's okay to enjoy a moment even in the midst of life altering circumstances. From a chipper, though possibly temporary night on the town (Downtown) that later leads to an intense quarrel that hints at a breach of trust (Game Show), the fact that they're expressed with such unabashed intimacy makes it all the more hard to bear.
Despite its deep-seated sadness, Are You Alone? ultimately gives Welsh the opportunity to look up with a triumphant joy, ready to step into a hopeful next chapter. Never does it wallow or feel desperate, and instead takes a soulful, Michael Hutchence-like approach of tugging at the heartstrings with passionate, swooning sincerity. The dreamy, sonic signifiers he puts forth with Matthew Otto, who is instrumental to Welsh's vision, provide just enough warmth to give these twelve confessionals a fluttering, almost subconscious airiness. Are You Alone? only reveals itself more dependent upon the listeners' own experiences, and since we're dealing with heartbreak here, its potent message will never cease.
21 October, 2015 - 04:15 — Juan Edgardo Rodriguez