Music Reviews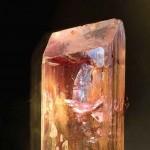 Mariee Sioux Gift for the End
(Almost Musique)

In the promotional notes for Mariee Sioux's fourth album (apparently her fifth is also imminent) the usual suspects that any self-respecting young ethereal folk-singer should cite - the list that generally starts with Nick Drake and runs all the way up to Joanna Newsom - all make an appearance. And yet there is still one absence that seems fairly egregious: Marissa Nadler. Of course, with Nadler still being very much a cult concern it's not likely that she'd pop up on a list of influences, it just can't go unmentioned as on Gift for the End Sioux sounds so much like her (with the possible exception of White Fanged Foreverness, where she's arguably a bit more Tori Amos) that it's positively eerie. And, as if to compound the eerieness, both share a similar taste for finding beauty in the macabre.
Fortunately, Sioux also shares Nadler's knack for a good tune. Working with a deliberately sparse palette - mostly just gently plucked guitar and that voice, with the occasional stab of a Wurlitzer, or fairly polite percussion, or a delicate spiralling of woodwind (Twin Song does also make a good case for the modest, perhaps even artistically valid guitar solo) - and consistently weaving it into gold. In fact, she doesn't even need all that, as the voice, while not exactly unique, still manages to captivate and beguile in its deathly sighs, often enhanced by Sioux, like Nadler, multi-tracking herself in an attempt to create the sound of some sort of ghostly girl band.
But rather than try to make the claim that these eight, fairly lengthy, songs are in actuality a Nadler project under some nom-de-plume, let's focus on what sets Sioux apart; specifically her wide-eyed, slightly creepy naïveté. Where Nadler, for all her endearing shyness, is a somewhat sophisticated, jaded soul (admittedly, some of that impression may be based on the fabulous f- me shoes and handbag combos she's sported on stage), Sioux is a wild-child in the original sense of the word, even out Newsoming Newsom with her lyrics which draw on both an awe of, and unease with, the animal kingdom. The words that Sioux chillily intones for the most part carry both the delicate nature of youth and conversely (yet, no less childlike - as any number of overly-enthusiastic kids' stories or drawings will back up) gleefully bloody imagery, and at other times are mostly incomprehensible: Icarus Eye's recurring, cryptic epigraph "And my mother said that I'm a pyramid" suggests that family conversations are generally a barrel of laughs in the Sioux household. In fact "Mother" (and its various contractions of endearment) might in fact be the most frequently used word on the album, suggesting that Sioux is hinting at being at the crossroads of adolescence (despite, in fact, being in her mid-20s): on the one hand yearning for a return to a lost childhood, on the other looking on the newly acquired powers of the adult self with a wondrous fear. Swimming Through Stones in fact perfectly encapsulates this conflict in an appropriate gory method, opening with the yearning "Oh snakeskins how I wanna crawl back in/to them like sleeping bags", culminating in the almost gleeful "I've never sucked blood before like this" and the detachment in its concluding "I wonder what went on in the rabbit's hole/and how these tiny things cannot seem to escape/until we are left with snakeskin/and matted fur". Not that it really matters what she means: as early as the album opener Homeopathic she's managed to prove that she can take something as simple as a formless vowel sound and render it so chillingly beautiful that it literally causes heartache.
The fact that it's impossible to talk about Gift for the End without discussing who came before does indicate that it's hardly going to set the world alight, but truthfully such notions as innovation are largely irrelevant in the field that Sioux has put herself in; what's most important is that the album marks her out as a talent to watch, more than able of holding her own against such forebears and, in turning in workas simple yet creepily perfect as Homeopathic or Twin Song, proves that she's more than worthy of our love in her own right.
8 May, 2012 - 10:29 — Mark Davison