Music Reviews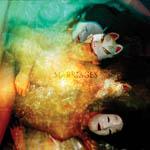 Marriages Kitsune
(Sargent House)

I guess you could call this an EP: Six tracks, all of which sort of melt into the other, a slow and lush mode and quiet howl of guitar notes afloat and occupying every available nook of audible background. Marriages, a trio comprised of Red Sparowes members Emma Ruth Rundle (vocals/guitar), Greg Burns (bass/synth) and David Clifford (drums), approach their new release, Kitsune, with grace and tone, air and drama, its six songs a cohesive array of sounds that are both haunting and captivating. Its intro alone, the opening notes of the ghostly Ride In My Place, induces shivers.
It was three or four listens before I realized that Ride In My Place and the following song, Body Of Shade, weren't two parts of the same track, their transition seamless, their pairing wonderfully sequenced. For this reason alone, the album's continuity is as important as the music Marriages performs. Kitsune is to be considered for the duration of its six-song length as opposed to one or two songs at a time. To listen any other way would shortchange the work, the trio's assembly of sharp percussion and atmospheric melody as logically configured and essential to the make-up as words are to a properly written or formed sentence.
Having said that, the rewarding Ride In My Place and tom-thumping epic, Ten Tiny Fingers, provide the album its standouts. The instrumental Pelt acts as precursor and anticipation builder to the guitar track, White Shape, Kitsune's obligatory rock fist payoff opportunity before the album settles via its closing track, Part The Dark Again. Vocally somber, its riffs generating sorrowful, amplified repetition, Kitsune's last dose of loud fades into a mass of impassioned reverb. It's here you realize the album's true flaw:
It's too fucking short.
1 May, 2012 - 09:13 — Sean Caldwell