Music Reviews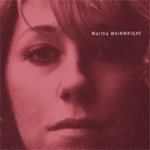 Martha Wainwright Martha Wainwright
(Drowned In Sound)
Buy it from Insound

Can we forego the introduction yet? OK, one last time. Martha Wainwright is the daughter of errant father and folk/comedy legend Loudon Wainwright III and Kate McGarrigle, one half of legendary Canadian folk duo The McGarrigle Sisters; her brother is Rufus Wainwright, celebrity-favourite songwriter whose status as a legend for either his craft or his brief period of crystal-meth-induced blindness is pending. With such a legacy, one could easily forgive Kate and Loudon's daughter, for getting a job in some field that wouldn't throw her into the limelight of competition and comparison with a family already bursting at the seams with overachievers. Not so. After a good many years playing bars in New York's fertile alternative scene and selling EPs at gigs, there is finally a Martha Wainwright long player for the world to wrap its ears around.
Having become mildly obsessed with the Wainwright-McGarrigle dynasty over the past few years I have seen Martha live a lot. Where she has played with her mother and aunt she has regularly outshone them with her confessional songwriting and huge, expressive vocals; she has made her brother's gigs come alive with soaring backing vocals; and when topping the bill she is one of the most captivating performers. Even her one weak song - about driving in a car and waiting at traffic lights - is rendered a work of banal beauty by intense delivery. So, maybe it is my unfair high expectations for the album that has led to it being a bit of a disappointment.
Much of the album is wonderful. GPT, a homage to a bar in which Martha has either played or had some very good evenings that have ended up with some barely conscious carousing - "I thought for sure/that I'd be yours, oh but your friend is much more/But he's got a date and she's got a name/I don't care", capturing a sleazy drunken sexual desire and confidence. Other tracks equally show off Martha's talent for a turn of phrase and repeated refrain, the recent single Factory an expansive, sunkissed, encapsulation of displacement. These Flowers and This Life are two of the most beautiful songs you will hear this year and worth getting the album for alone. Among the first nine songs of the album, there are 6 essential tracks stuffed with hooks that strum you by the heartstrings for hours after you've stopped listening. So it is so sad that towards the end, the album just fizzles out. It never gets bad, don't get me wrong, there are some delightful numbers here, but they're a disappointment given what has gone before.
My hopes for this album were too great. It shows off a fantastic songwriting talent, if not conveying the live magic. By all means get this, fall in love with the songs and then get ready to be reduced to jelly when you see Ms Wainwright live.
3 July, 2005 - 23:00 — Peter Hayward