Music Reviews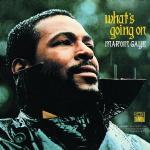 Marvin Gaye What's Going On (40th Anniversary Edition)
(Universal)

It's difficult to overestimate the quality and impact of Marvin Gaye's 1971 masterpiece, What's Going On. It was voted as best album of all time by the NME and British newspaper The Guardian, and it rests at number 6 on the Rolling Stone Top 500 Albums list. The album was not only a departure for Gaye himself, but for Motown and for soul music in general. It received instant critical and commercial success, breaking records upon its release.
The album was recorded on the back of a period of depression for Gaye, who lost close friend and recording partner Tammi Terrell in March 1970. During this period Gaye remained shrouded in obscurity, refusing to record or perform for some time. The breakthrough point came shortly after he met Al Cleveland and Renaldo 'Obie' Benson (of the Four Tops), who had begun work on a song entitled What's Going On, which took on political and social issues as its subject matter. The composition of the song was completed with the help of Gaye and, after some persuasion, Gaye himself recorded the song.
Motown owner Berry Gordy Jr. initially branded the song too political, certain it wouldn't appeal to commercial audiences but, upon its release in January 1971, the song became Motown's fastest selling single to date, prompting Gordy to demand an accompanying album. That album, of course, was to become What's Going On. Upon completion of the album Gordy again protested, claiming the album was too political and its commercial potential rendered impotent by its song-cycle format. Once again, of course, Gaye stood his ground and got the album released. Once again, of course, Gordy was proved wrong.
A popular soul musician, especially on the Motown label, standing up to record executives was virtually unheard of at the time, and it's a credit to Gaye that he followed his vision through so determinedly. It's also fortunate for us as listeners, because with What's Going On, Gaye created something both timeless and deeply relevant to the period in which it was released. Gaye approaches subjects as diverse as political corruption, the Vietnam War, environmentalism, and social inequality, but the real coup of the album is that these subjects are never broached with the heavy-handed swipe of an activist. Rather, Gaye's deftness of touch leaves questions unanswered, sentences unfinished and problems unsolved. What's Going On, then, is political without being a manifesto; a maze of pleas and confusion that don't so much hold a mirror up to society as ask people in general to hold that mirror up themselves.
What's Going On also heralded a new period in soul music. The elements of jazz and classical instrumentation that are weaved throughout the album lend it a weight beyond its political focus and the unique use of a song-cycle was revolutionary for a soul artist. On top of all this, Gaye's vocal performance demonstrated a maturity and skill few knew he had, despite his obvious talent in previous recordings. What stands out about Gaye's vocals is the genuine sense of exacerbation he manages to transmit throughout each song, adding firm punctuation to the atmosophere created by the lyrics. As a contrast to his later album, Let's Get It On, wherein Gaye's emotional and sexual tensions often boil into yelps and screams, with What's Going On Gaye is calmer, more reflective and at times even conversational, making the "brother" he often appeals to feel like it could be the listener themselves.
As for the rerelease at hand, bettering an album that's already close to perfect is almost impossible. Production has been tweaked by modern hands and the second CD comprises a slew of extras (including unreleased instrumental outtakes and non-album tracks). It's interesting to hear some of the alternate versions, especially a revealing early mix of What's Going On. The lack of instrumental adornment gives the song an increased amount of intimacy and, given the lack of extra production, you can almost imagine you're hearing Gaye directly in the recording studio. Being able to seperate a song so ingrained in our culture from its normal presentation is both eye-opening and liberating.
The package also comes with 2 essays and a vinyl copy of the 'Detroit Mixes' (an early draft of the album that was dropped by Gaye so he could oversee the production process). Considering the price, it's a box-set that will probably only interest die-hard fans and collectors, but for those to whom these things appeal (and for those who have never heard the 'Detroit Mixes') it's undoubtedly worthwhile.
Following the release of What's Going On, Marvin Gaye went on to become one of the biggest stars in the world and to this day his image and his songs loom large over the musical landscape. His is an undeniable, raw talent that transcends the time in which he was alive and will last for centuries to come. What's Going On is not only a remarkable album, but an opportunity to discover a seminal artist at the peak of his powers; an insight into a true modern genius of pop music.
1 July, 2011 - 07:48 — Paul Fowler