Music Reviews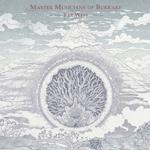 Master Musicians of Bukkake Far West
(Important Records)

Internal and external travelogues with ritualized folk musings and sun-drenched psychedelia: There's a compositional breeze causing this ensemble to sway, Master Musicians of Bukkake navigate their scrambled landscapes, which seem built from duotone washes and televised snow. The band's provocative moniker noted; their preoccupation with location spans the entirety of Far West, their ninth album, with instruments as unusual as "green fog," "sights unseen," "water seeking foolishness," "mossy fuzz" and "insects" used to fill their arrangements.
Aided by members of Sub Pop's Rose Windows (Nils Petersen, Rabia Oazi and Richie Rekow) and producer Randall Dunn (Ensemble Pearl, Akron/Family, Grails, Eyvind Kang), Master Musicians of Bukkake fortify their score with electrified nuance and a fleet's worth of percussion, the ceremony crucial to the trip. In the way that other "out there" groups like Sleepytime Gorilla Musesum and mood-concerned folk acts like Tenhi craft expansive and tonal aural drifts meant to deepen with the aid of headphones, Far West reveals much to its composition, textures and melody, pulse and primitivism. With agitated shrieks of serrated static, the album is introduced. White Mountain Return transitions into a rapid pulse, complimented by an acoustic guitar chord and eerie mellotron, its gradual increase in volume and sound perfectly setting up γη-νομος/Gnomi, an acoustic edge and subtle gleam carrying the music's stroll. A chorus of voices haunts the mix, harmonizing atop a heavy strum, which is interrupted once by a flurry of synthesizers.
As Far West functions primarily through layers of harmonized color, traditional song structures mutate as long intros evolve. Following the heavy ritual of the instrumental, Arche, a track carried by heavy toms, fuzz tones and free-jazz associative noise, Cave Of Light — The Prima Materia is driven by a grand assembly of folk and choral arrangements. "The cave of light/is under surveillance…": Its main vocal a soft drone eventually drowned out by a host of voices and brass exhalations sounding atop amplified guitar chords and synthesized wisps. The song intensifies in waves, a heightening odyssey both basking in the seriousness of its resolve and enjoying its softer moments.
Organs and synthesizers interact for You Are A Dream Like Your Dreamer — The Dark Peace, heavy movements of sound a precursor to the album's finale, Circular Ruins. With a clangor of bells and some acoustic shine, MMoB orchestrate a celebratory drum circle, brass tones calling out amidst its patient and persistent beat…
…all over your face.
9 July, 2013 - 19:20 — Sean Caldwell