Music Reviews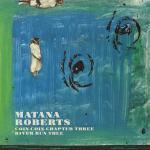 Matana Roberts Coin Coin Chapter 3: River Run Thee
(Constellation)
Buy it from Insound

Since the inception of multi-instrumentalist Matana Roberts's Coin Coin project in early 2011, the racial tension between blacks and whites in America has climbed. Boiling past the dying simmer we once assumed it was, racial discord has been flamed by the heat of growing economic and social disparity. The riots at Ferguson, the preceding murders of Michael Brown and Trayvon Martin, and the unfortunate passing of Eric Garner — however you may feel about the outcome of these events, we are nevertheless participants in an increasingly globalized discussion of dissatisfaction amongst western society. Coin Coin Chapter Three: River Run Thee could not have arrived at a more irrevocably poignant time.
Released on Constellation Records, a label known for experimental heavyweights Godspeed You! Black Emperor and Thee Silver Mt. Zion, her most recent release is the third chapter in what is otherwise a twelve-part expedition into the oppressive history behind the African slave trade and the Civil Rights movement. Flowering under her roots in avant-garde and free jazz, Roberts supplements the raspy doggedness of her saxophone with a down-trodden cornucopia of tape collage, spoken-word passages, and terse singing. As part of a process she considers "panoramic quilting," the composer often employed textures and field-recordings in real-time as the tape ran back in the studio. This effect can lead to a rather complex cauldron of angular sounds colliding into each other in their shared expression of misery. Thankfully, recording engineer Radwan Moumneh manages to tame the relentless outpouring of moans, whispers, and dissonant drones.
While the album is seemingly a tight collection of brief songs on the surface (sans the haunting introduction of All is Written), the crossfades and interconnectedness of nightmarish drones between tracks expose the record as a sprawling forty-five minute suite. This is not a bad thing in and of itself, but in durative sessions of listening, the smattering of punishing synth makes for an exhausting experience. The seasick organ and backwards-composed melodies of Clothed to the Land, Worn by the Sea dredge up the collective conscious of fettered captives of war successfully, but hardly compel the listener to continue on to Dreamer of Dreams. The song maintains the same relative key as Clothed, only further introducing excerpts from the maritime memoir Dhow Chasing in Zanzibar Waters and faint groans until the last minute or so. In fact, many of the songs on Coin Coin Chapter Three coalesce into the same ceaseless murmur in which they started, in spite of their adventurous sound-play in between. Because of this repetition, there is an uncanny sense of having arrived at a familiar locale, perhaps only known in dreams. But still known nonetheless.
And that is a shame. Coin Coin Chapter Three successfully operates on so many intellectual and conceptual levels, but lacks visceral impact; inducing the listener into a "call for action," but only from the distant, second-hand viewpoint of scattered diaspora. Beyond the initial sense of dread that permeates as Roberts steers us into her primordial underworld is very little else. Coin Coin is still a pertinent listen — a chilling reminder of the atrocities that still plague a self-aware world more cognizant of them than ever. Roberts is a talented creator, unbridled by the artificial conceptions of natural form and treading on unknown ground. A stumble here and there is of little concern, especially when she is only a quarter of the way toward her destination.
16 February, 2015 - 07:13 — Joseph Moore