Music Reviews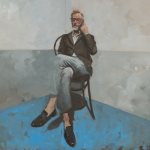 Matt Berninger Serpentine Prison
(Book Records)

Matt Berninger's voice is interwoven tightly in The National's DNA. As soon as his baritone reaches your ears, you expect to hear the intricate guitar work and heavy piano chords of the Dessner brothers. It makes the prospect of an independent project intriguing. What happens on a Berninger record without his longtime bandmates? What does this experiment sound like?
Well...it mostly sounds like The National, though with a fresh coat of paint. Produced by legendary soul artist Booker T. Jones, Serpentine Prison offers a few flourishes to otherwise standard fare that mimics traditional, National-lite tunes. While there aren't many surprises or songs that can compete with the best of Berninger's day job, fans will still find a good amount to enjoy here.
With the composed, somber piano chords that open My Eyes Are T-Shirts, the album starts in well-worn territory. Berninger is still singing about lovelorn desire and middle-aged milieu, but he's gifted enough of a lyricist and singer to find new ground on these subjects. "My eyes are T-shirts, they're so easy to read/I wear 'em for you but they're all about me," he sings, one of those couplets that'll instantly connect with anyone who's gone through a drawer of clothing before a night out. Add in a nice slide guitar and you get the sense for the rest of the record—a chill, evening reflection.
One More Second follows this approach, letting its power come forth in the great melody and yearning lyrics. Powered by the best singalong chorus on the album, Berninger's lines about trying to regain lost moments feel even more apt in these pandemic times. "Give me one more year to get back on track…Smoke's in our eyes or in the distance/Either way we're gonna miss it/When it's gone," he sings with ache and melancholy, leading into a Hammond organ wavelength that's just as expressive.
It's little touches like that organ that offer a bit of distance between Serpentine Prison and a record like High Violet. The remaining highlights on the album successfully mix in alluring, attention-grabbing flavors. Distant Axis has an anthemic, chiming quality, with taut acoustic rhythms and echoing electric guitar work. It sounds like an alternate-reality, mature U2 hymn. Silver Springs has a light, jazzy vibe, its smokey lounge atmosphere enhanced by Berninger's smooth duet with Gail Ann Dorsey. Loved So Little bolsters its trotting percussion with a closing harmonica riff. Collar of Your Shirt twirls together spirited organ work with Andrew Bird's timeless violin sound, as Berninger reaches for new heights in his range. All these songs show the potential of new collaborators to galvanize.
Unfortunately, the rest of the tracks fail to stand out. It doesn't help that there are no upbeat and barely any midtempo numbers on the record. If you're going to have 40 minutes of slow tunes, you better make sure the melodies are strong enough to overcome the lack of tempo changes. Oh Dearie is basically a dull rewrite of One More Second. Take Me Out of Town and All for Nothing will make you want to listen to Pink Rabbits instead. And the title track comes off as very generic for Berninger, with lazy and vague lyrics like "You're gonna have a pretty hard time/Without drugs, without love."
While it starts strong, the weaker second half makes Serpentine Prison a mixed bag. It doesn't feel like a definitive statement album, more like an opportunity for Berninger to stretch his legs. There's a good amount of work to enjoy here, but it'll mainly make you want to listen to The National instead. Still, given the usually long intervals between that band's releases, it might be best just to look at this as a few good, insular songs to hold you over and an opportunity for Berninger to keep the cobwebs clear.
11 November, 2020 - 19:42 — Joe Marvilli