Music Reviews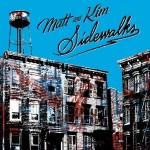 Matt & Kim Sidewalks
(FADER Label)
Buy it from Insound

As I stare at this $10 bag of Halloween candy I bought November 1st, a few thoughts pass through my mind, like how America is a fat, consumerist wasteland and how Take 5 bars are the best thing ever. I also can't help but liken Matt & Kim to this neon-colored diabetes in a bag. Every year (album), I know what I'm going to get, save for a few glorious surprises from the good folks at The Hershey Company (those Brooklyn lovebirds), and yet I come back each year to shell out vast amounts of cash (iTunes credits). It's always the same nougat-y goodness (awesome dance-punk record) with a slight twist, but I'm always guaranteed to walk away smiling.
For Sidewalks, their third LP, while the formula is still the same, the duo have added a few savory chunks of musical goodness and Red No. 40 to keep things interesting. Cameras is without a doubt the breakout song of this effort. It keeps in line with the raucous, minimalist high-energy of previous releases, but the bright spots of layered synth, what can only be a xylophone, and the mellowed groove make for something more than the sonic snacks they usually offer. Featuring a slightly more electro-fied combo of keys and synths, Red Paint feels slightly more New Wave than other offerings. Plus, a wholly organic flute sound is a welcomed breeze to the sweaty dance floor that is their back catalog.
Fans of the other Matt & Kim albums might have an issue with these two tracks. They're the best representatives of a cleaner, more concise sound, one where production value and precision are just as welcome as quirky lyricism and making odes to Atari classics. If you're looking for those, they are alive and well in Wires and Silver Tiles. Both involve the odd lyrical concepts (what are silver tiles and what do they mean in the life of a 20-something?) and are very straightforward, powered once again by a simple synth/key part and some mediocre drumming. If you fear change, these are your bastion.
If your tastes are more in line with lyrical maturity and growth in general, you aren't exactly left with a bag of raisins. While they're always so gosh darn happy and smiling, Northeast may be their most somber creation ever; even the instrumental break doesn't pick up that much speed. Plus, the lyrics reference their hit Daylight, and as we all know, being meta is totally adult. Where You're Coming From is the band's most uplifting song. Not just quirky lyrics about the beauty of a dirty city, there's an emotional connection and understanding being developed. It's ultra light and super breezy beat belies two people at the end of their respective ropes ready to climb back. Lines like, "I'm on my feet today, and I'm walking to the grave. I drew this map by hand to show you how to be a man" clearly portray a band moving on to more mature fare without leaving fans jonesing for their next sugar high.
Some people might Matt & Kim's music is without substance, totally incapable of being a sustainable addition to the sonic landscape. I submit that their saccharine hooks, covered in a coating of post-adolescent confusion, is just the opposite. I mean, haven't you ever had ice cream for dinner?
9 November, 2010 - 22:02 — Chris Coplan