Music Reviews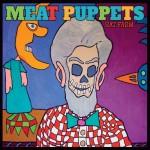 Meat Puppets Rat Farm
(Megaforce)
Buy it from Insound

Meat Puppets had their 15 minutes when they joined Nirvana on stage for the taping of MTV Unplugged, and when they released Too High To Die just a couple months later, it became their only gold record, and Backwater became their only single to chart in the Hot 100. But Meat Puppets always deserved better than that. Their sophomore album was arguably the most versatile album on SST or to be labeled "hardcore punk" at all, spanning from that genre to folk, and country songs and classic-rock sounding jams. The band has released several albums since then and is now on their fourth lineup, Rat Farm, the second album with the current incarnation of the Kirkwood Brothers and Shandon Sahm and fourteenth overall, is a more mellow assault that showcases songwriting chops without the edgy creativity that characterizes their best albums. Many Meat Puppets albums are stocked to the brim with ideas; Rat Farm sees them taking a step back and trying to do the simple stuff as well they can.
Like any Meat Puppets record, it's a somewhat new sound for the band, stripped back without the eccentricity of Up On The Sun or the thick production of the otherwise comfortable No Joke! This one emphasizes the band's southern rock elements but brings back the thick production of the '90s work, giving guitar solos a sludgy feel that take them out of classic rock territory. Still, pop song structures, and a Curt Kirkwood that sings far more than he screams, make Rat Farm an unashamed pop album. That said, it's an inspired one, with guitar noodling and psychedelic influences that give off a confident vibe but could still surprise even the biggest fans. Fourteen albums in, it's a slight twist on the aesthetic of a band that seems to have traveled all around the soundscape and back, and that's an accomplishment in itself.
The acoustic riffs, vocal harmonies and echoes of Waiting is as sweet as anything the band has recorded, an emotion they could never give off so effortlessly if they hadn't taken Rat Farm back to the basics; it's the standout on an album full of enjoyable and respectable but mostly unremarkable tracks. After a couple decades of aggression and whining, hearing "everything's cool/everything's fine" is a beautiful sentiment and another addition to the narrative of punks grown up that has characterized former hardcore superstars like Henry Rollins, Ian MacKaye, and Guy Picciotto. On one hand, that's the album's biggest strength; it's an honest look at the mind of someone who has, quite frankly, been through a lot—that this band has stayed reasonably consistent and present despite drugs and jail time is quite remarkable—but on the other, they're a bit too late. A solid output into the mid '90s was enough to immortalize them to the punks who really cared, but it also meant that by the time they grew up, the "grown-up albums" had already happened and this territory had been well traversed.
At the same time, charm never dies. Sometimes Blue is an Americana ditty that mixes in chimes with distorted solos and a melodic bass line, but never loses its charm; it could just as well be a strong arrangement of My Darling Clementine or a western ballad if you weren't listening close enough. Elsewhere, the palm muted guitar hooks of the title track and the percussion backing throughout Down lend the album a fleet-footedness, as Kirkwood sings about chasing rabbits in the yard and "a waterfall of color," creating an eccentricity and humor in a manner that begs for sing-along. This style is a bit repetitive for the album's 45 minute run-time, as the band's brevity has always been one of their biggest charms, and a sense of repetition sinks in particularly on the album's more uniform first half. The uninspired production doesn't help, but at the same time, the Meat Puppets bring the hooks, and Shandon Sahm's drumming is invigorated and heavy to provide a good counterpoint to otherwise wry songs. When Leave Your Head Alone switches from the deliberate heaviness into the two-line chorus, it's a fragment of what the Meat Puppets are at their best, versatile stylists able to shift notes on a dime. It's the touches of something different, the Sometimes Blue or Waiting, and the playful lyrics scattered throughout, that make Rat Farm worthwhile. Elsewhere, it's bogged down by solid but unspectacular guitar solos that are too numerous to have any larger resonance.
Largely, that's how Rat Farm feels; good but not as good as you might think it is on a song-to-song basis, enjoyable but somewhat less memorable. In the chorus of Rat Farm, Curt Kirkwood says that he's "rotting to the core." The next sentence, "I take what I want, take a little more", is perhaps more accurate. Songwriting and creativity are still fresh, but if you take too much, you're going to drop something.
30 April, 2013 - 04:43 — Forrest Cardamenis