Music Reviews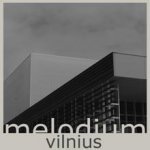 Melodium Vilnius
(Self-released)
Buy it from Insound

Melodium is the nom de plume of Laurent Girard, a multi-talented French recording enthusiast who's been entertaining a number of us here at No Ripcord since we stumbled upon his 2005 album La tête qui flotte. Indeed, more observant readers may recall a Melodium track called My Xylophone Loves Me featuring in our February 2007 podcast. If not, why not re-acquaint yourselves here?
Vilnius is Girard's eleventh full-length release in a career that began in earnest with 1999's Rhythmi 7". To quote the author, it consists of ten "melodic electronica tunes with classical guitar". Nine of the ten tracks are named after towns and cities; the other is a cover of Mazzy Star's I've been let down.
Fans of Girard's more instrumental work will not be disappointed. Both Vilnius and the excellent Bilbao feature the tuneful synth lines and glitchy beats that have become Melodium trademarks, whereas the choppier Minsk benefits from the inclusion of a subtle guitar track which provides a more organic feel. Tseel is more menacing, sounding very much more like a city at night with its prominent percussion and ominous melody.
But while there is plenty to enjoy here, I can't help but feel that Vilnius lacks the personal touch that made Girard's last two releases for Autres Directions in Music (La tête qui flotte and 2006's Music for invisible people) so special. On those records, Girard's vocals were his unsung secret weapon, acting not so much as a focal point, but simply as another instrument, adding warmth and an additional human element alongside his finger-picked guitar. These vocals are, aside from on the excellent I've been let down, sadly absent on Vilnius.
But I really shouldn't be complaining. Vilnius may not be his greatest work, but there's more than enough evidence here to suggest that Girard is still way ahead of his rivals. And besides - something tells me this isn't going to be the last we hear from him.
. . .
To order this release please visit http://melodiumbox.free.fr
23 September, 2007 - 17:52 — David Coleman