Music Reviews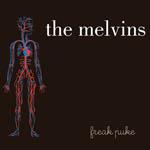 The Melvins (Lite) Freak Puke
(Ipecac Recordings)

Though The Melvins will be considered grunge music's torchbearers, the band has surpassed this legacy from a creative standpoint, having worked in varying degrees of the musical expression with which they've come to be known. Their line-up is in constant flux and the band's prolificacy has accelerated over the last ten or so years, main Melvins Buzz Osbourne and Dale Crover on a tear to release whatever they can, however much of if they like, with whomever they please. This past March, the "two drummer/big hair line-up" (as Crover puts it) they share with Big Business' Jared Warren and Coady Willis, (with whom they worked for 2010's The Bride Screamed Murder), released The Bulls & The Bees, a five song EP sponsored by Scion AV.
A mere three months later, Freak Puke, their latest LP, features the band's first go at a new incarnation which has been dubbed "Melvins Lite."
"Melvins Lite" is Osbourne, Crover and bassist Trevor Dunn, a virtuoso of sorts best known for his work with Mr. Bungle, Fantômas, MadLove and as "go to" collaborator for avant-garde jazz musician, John Zorn. Dunn's presence expands The Melvins' normal sonic verbiage and Freak Puke wastes no time in making this evident, the slowly bowed hum of an upright bass introducing the album's first track, Mr. Rip Off.
Dunn performs the entire album with an upright bass, employing no electric bass guitar. Inasmuch as his involvement with the band should seem to require a new way for both Osbourne and Crover to approach their music, Dunn in no way dissuades them from performing characteristically raw, riff heavy, slow moving rock songs. "Melvins Lite" is neither toned down nor is it dialed back as the name might suggest. On the contrary, Freak Puke is at its very core a Melvins album: strange and abrasive, muck-borne and jagged. Songs like Baby, Won't You Weird Me Out, A Growing Disgust, Leon Vs. The Revolution and its title track feature prominently Osbourne's howling six-string articulations and his abrupt pronunciations. The motivation here is to bring something new into the band's culture, but not to the exclusion of what makes The Melvins unequivocally "them." Even with their excellent cover of Let Me Roll It by Wings, Osbourne takes full advantage of Paul McCartney's riff and adapts it perfectly to his own gritty style.
However, Inner Ear Rupture, with its whipping bow across Dunn's bass, sums up succinctly the "Melvins Lite" conversation within its near two minute duration, exhibiting the potential to bring The Melvins into some new creative realm. Delving into the more characteristic of Melvins tracks that Freak Puke has to offer, you find beneath Osbourne's playing a very refined low end, not to mention Dunn's symphonic additives. Songs like Worm Farm Waltz and Holy Barbarians factor in The Melvins' penchant for the bizarre, but Dunn adds an air of sophistication. In some ways, listening to Freak Puke is like hearing something by Mr. Bungle: humor and eccentricity interacting well with musical ability. The album's final track, Tommy Goes Beserk, mashes Minutemen with the Allman Brothers, fashioning a quiet and slow intro that transitions into a rock n' roll jam session, adjoining then with broken orchestral movements and loops of found sound.
Sharpening their album with Dunn's teeth, Osbourne and Crover (perhaps unintentionally) realize versatility as contenders in the avant-garde. Freak Puke is a fascinating prologue to what will hopefully precede a new series of albums for "Melvins Lite."
15 June, 2012 - 08:07 — Sean Caldwell