Music Reviews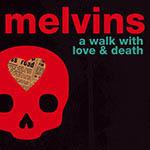 Melvins A Walk with Love & Death
(Ipecac Recordings)

Call it an inability to self-edit, call it the mere issuance of a surplus of material, call it self-indulgence: there's often a period in a band's creative cycle that results in the deliverance of four sides of music. It took the Melvins 34 years, one film score and Steven McDonald (of Redd Kross) to get here with A Walk with Love & Death, the band's first double-LP.
Acting precursor to so-called "grunge" and flexing a rather extensive catalogue of LPs, EPs, splits, cover albums and collaborations for multiple labels, the Melvins have been inexhaustibly prolific over its decades-long and seminal run. This particular spike in productivity sees the group venturing into some 70s-centric rock territory without being too far removed from what it means to be a Melvin, and a film score comprised of occasional performances and experimental sound collages. Each volume is respectively assigned the titles Death (for the studio installment) and Love (for the film score), and neither connects on any level other than how they're packaged for this release.
While typically hell-bent on bending hell via might-n-murk, the Melvins (with aid from Pixies guitarist, Joey Santiago) begin the Death portion of the album with the interestingly reserved Black Heath, their longest and quietest (relatively speaking) offering. Buzz Osborne's muscular vocal blares against the relative calm of the playing beneath, just some guitar notes moving against a patient backdrop of gradually increasing low-end volume and a few very cool melodic and rhythmic changes. The well-crafted Sober-Delic (Acid Only) follows and humorously lampoons the space-evocative mellowness and desert-borne melody of psych rock, perhaps unintentionally composing one of the album's best moments. McDonald lends his voice to the energized power-pop of What's Wrong with You, which precedes the Nuge-worship at hand in Edgar the Elephant, arena sized ambition that culminates in the heavy licks that take Christ Hammer to its conclusion and the blues rock grit of Cactus Party, whose background vocals are provided by Teri Gender Bender of Le Butcherettes/Crystal Fairy.
But so as not to completely depart from how they've come to be known musically, Buzzo's viscid guitar phrasing and Dale Crover's forceful percussive crawl are worked into Euthanasia and the excellent Flaming Creature. Cardboa Negro finishes the Death volume with rhythmic chug and a fumbling musical interaction that ends abruptly what is, on its own, a solid rock record.
The Love portion of A Walk with Love & Death is the soundtrack to a short film by Jesse Nieminen, built out of often manipulated dialogue that's fused with notes or noise, incidental moments either enhanced or obscured by backdrops of electronically-generated instrumentals (Aim High) or distressed environs seemingly built as homage to Einstürzende Neubauten or Helter Stupid-era Negativland (Queen Powder Party).
Give It To Me does offer some respite from its myriad explorations of sound design, as does the amusing "sock it to me" jazz lean of Scooba and Crover's drum work in Trackstar, but the novelty of the release does wear thin after a while. And while I can certainly appreciate the humor behind titles like Eat Yourself Out, Park Head and The Asshole Bastard, I found myself more curious about the visuals these tracks accompany than the tracks themselves, the band's avant tilt less engaging with every listen.
A Walk with Love & Death makes clear that the edges are still very sharp, the Melvins' pursuance of creative growth and ability to write and perform unquestionable. And with McDonald and Santiago on board, it's evident that these recent creative partnerships have been beneficial. The difficulty here is that each volume is a separate entry, the band's maiden two-album release a mere showcase of multiple outlets as opposed to something consistent or whole, making what should be a milestone for the band more of a missed opportunity.
With that said, listen to it, anyway. There's still at least one very good album here.
26 July, 2017 - 23:07 — Sean Caldwell