Music Reviews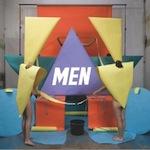 MEN Talk About Body
(IAMSOUND)
Buy it from Insound

For all their rhetoric and sharp edges, what really marked feminist electroclash band Le Tigre as special was their inclusiveness. By employing the DIY aesthetic of their 'zine background, working with the LGBT community and earnestly promoting their influences the band gave themselves an air of approachability - even Kathleen Hanna's bubblegum shriek, so abrasive on Bikini Kill's records, perfectly fitted the goofiness of their live shows.
However, with Le Tigre now on hiatus, Hanna's bandmates JD Samson and Joanna Fateman have returned as MEN, which seems, on paper at least, to be a much more complicated prospect. Armed with a press release that plays up their performance art leanings, and even a formation story that is somewhat confusing (starting out as a DJ project for the duo, MEN merged with Samson's other group Hirsute and finally settled as a three-piece, with Fateman now acting more as a consultant than full-time band member). Add to this the fact that the album took three years to record (earlier versions of a fair amount of these tracks can be found floating around the internet) and the move away from Le Tigre's endearingly ramshackle sound to something more slick is not a surprise.
Musically, MEN have eschewed electroclash (which, after all, is so early noughties) for the sort of post-punk inspired dance rock that was being peddled at the same time by bands like The Rapture (it even sounds like they've lifted a large chunk of House of Jealous Lovers on If You Want Something, although fortunately MEN haven't followed them in only including one decent song per album). The spirit of the eighties also hangs all over Talk About Body, probably not entirely in the way the band intended. Lead single Off Our Back's annoyingly catchy sing-song chorus flirts with the novelty pop that Black Lace earned notoriety for, although it is much more filthy, and listenable, than anything that band came up with (the same could be said for the self-explanatory Take Your Shirt Off). Percussion borrowed from the Miami Sound Machine peppers the album and the gorgeous, albeit vague, yearning of Simultaneous is built around a guitar riff that's weirdly reminiscent of Bronski Beat's queer classic Smalltown Boy.
One influence that can definitely be said to be intentional is that of post-punk heroes Orange Juice, with the track Rip Off not merely echoing the title of the band's biggest (or indeed only) hit Rip It Up, or even evoking their sound, but lyrically the song attempts to turn the band's 'half-spoken, half-sung' technique on themselves by incorporating vast chunks of their wikipedia entry. It doesn't exactly scan, but it is interesting, and amusingly self-aware.
As this would suggest, much of what makes Talk About Body worthy of attention is its lyrics. With the provocative title, and Samson's moonlighting in Peaches' live band, it's obvious that much of the album was going to be about sex, but these are not your average accounts of boy meets girl (or even boy), as Samson is writing dispatches from the largely unrepresented butcher side of the lesbian community. And that's not to say that the whole record is just on the one subject – the dual nature of the album is nicely summed up in opener Life's Half Price's chant of 'Free love, free money', as when not talking about bodies, Samson generally occupies herself with politics, in particular the recent economic crisis. In many places she tackles both at once, such as the queasy decadence summed up with the line 'radical surgery, prosthetic sex' in western-guilt anthem Who Am I To Feel So Free or Credit Card Babie$' commentary on gay adoption rights and the biological urge to have children. Admittedly it doesn't always work, in particular Boom Boom Boom's anti-war semi-rap is as blunt as Le Tigre were at their worst – there's definitely a reason why nobody's tried to sing about micro-finance and government issued sewing machines before - but even then its hard not to get caught up in the rallying call of the song's chorus.
The occasional bluntness isn't the only problem with Talk About Body – at points it may stray too far into twee for some tastes, particularly in the I-love-my-friends-and-family-and-pretty-much-everybody-else message of My Family. Structurally, it could also be said that the record feels more like a collection of songs rather than a cohesive album with it not so much building to a climax but starting at full speed and carrying on that way before burning out. But when an album's main faults are that its too upbeat and lyrically too ambitious, it really is one that deserves to be talked about.
24 January, 2011 - 23:10 — Mark Davison