Music Reviews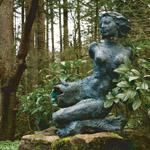 Menomena Mines
(Barsuk Records)

"Nothing holds up a process like an indispensable band member being both a perfectionist and a control freak. Especially when your band features three of these types. And we certainly haven't gotten any more agreeable in our old age – quite the opposite." — Danny Seim, Menomena

A couple months after their third album Friend And Foe gained them some notoriety for creative strides in CD packaging, I got see Menomena do their thing on stage and was more or less awestruck with what three guys can accomplish. As multi-instrumentalists, members Danny Seim, Justin Harris and Brent Knopf are jugglers, upping the stakes with bigger and riskier objects to throw around, ambitious enough to want something deeper and more profound than three guys can typically provide.

As jugglers, they're aware of embellishment. They realize, at their core, they're still throwing objects in the air and catching them. The trick is in the act itself, the beauty is in its simplicity. Everything else is for show, but necessary to keep the crowd interested and to create the mystique. And their sound: Is it grand simplicity, or near complexity? Minimalist or thickly layered? I can't figure out which. With four revisited notes, the song BOTE, one of my favorite songs featured in Menomena's new album, Mines, demonstrates how ably they can marry blatant musical simplicification with rhythmic funk and a wistful backdrop of piano and howling guitar sounds that float throughout the song like memory. All you really hear, though, are those four notes. It doesn't matter when a saxophone blows them, or when keys make them happen. The notes have power despite everything else the song throws at you.

Mines starts off with a shy bass line, the song Queen Black Acid slowly reacquainting listeners with the recognizable voices, the familiar dance of piano notes and that ever prominent low end. After testing the waters and deciding it's safe to come out, TAOS shows up swinging, a storm of cymbals and thick bass tone calming at points to reveal undercurrents of orchestral suggestion. The following song, Killemall, acts as a high-tempo foundation for swirling piano arrangements and icy guitar notes, a metaphorical bulletin board tacked with scattered and collaged fragments whose every position implies reason and forethought.

Nothing is accidental here: improvisation essentially Kryptonite to arrangements such as these even if Menomena relishes in piecing their builds together like cut-n-paste loops. The album's first single, Five Little Rooms, is stripped bare or over-burdened at points, revolving around signature notes like the aforementioned BOTE or Friend And Foe's Air Aid. They rely on their anchor, which is what keeps the band from being dubbed "pretentious" despite their willingness to experiment. Well, that and their added willingness to make pretty music.

Pretty music? Yes, this perfectly describes Dirty Cartoons whose folk-ish and emotional presence is followed by light and funk-fueled Tithe. There's a sweetness to Lunchmeat as well, the song also based in its own "beauty" cluster that has it preceding the nod-inducing Oh Pretty Boy, You're Such A Big Boy.

Maybe it's lazy or cliché to tie "beauty" into the album, but Menomena constructs melodies that navigate those waters and they manage to do it while avoiding the "sap" and "self-indulgence" that seem commonplace with many other bands of this ilk. The only instance when they seem steeped in sentimentality is with Sleeping Beauty, and even then it's pretty excusable once INTIL plays like some affecting grown-up lullaby.

I wouldn't call Mines a step above Friend And Foe and I don't think it's supposed to be. Instead, think of Mines as a carefully constructed and quiet follow-up that doesn't wish to surpass any watermark previously set by another album. It's cohesive, it's tight and it illustrates the band's continuous depth and attention to subtlety. At their core, Menomena is still playing rock n' roll. The trick is in the band itself, the beauty is in their arrangements.
27 July, 2010 - 03:37 — Sean Caldwell