Music Reviews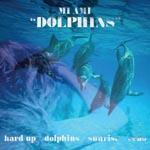 Mi Ami Dolphins
(Thrill Jockey)

Evolution's tricky, especially when it's forced by a loss of stability. With bassist Jacob Long's departure from Mi Ami, consider the band's strategy for quick recovery: Convert this void into opportunity and take a creative leap. The now duo of Daniel Martin-McCormick and Damon Palermo exchanged their live instruments for samplers, drum machines and synthesizers while maintaining their signature minimalism and penchant for groove. Following 2010's abrasive and, quite frankly, awesome Steal Your Face LP, Mi Ami's four-song follow-up, Dolphins, is the byproduct of their unified coping mechanism and their resultant leap.
If you don't know what to expect, the first few seconds of Hard Up are disorienting. Dolphins begins like an avant house party, a somewhat antiquated beat generator and bass line powering fluttering bursts of synthesizer. If you've ever worn glo-sticks or suckled an acid-flavored pacifier, the oontz oontz energy provided by Hard Up shouldn't be too unsettling. For those of us acclimated to their past, it's a far cry from the noise punk typically associated with Mi Ami.
Martin-McCormick still employs his shrill delivery, though it's enveloped in reverb and effects and comes across like spoken verse. He almost sounds like a more flamboyant Alan Vega, high-pitched and emphatic, his unique shriek providing the electro-propulsive soundtrack punk-ish and ominous flair. This is especially true with the album's title track, which has doom-laden consistency and ear-ringing synth tone. It's eerie and sloppy, though strangely captivating, kind of like Suicide.
But, in the midst of all the new-fangled electricity that positions Mi Ami for creative growth, there is a spiritedness and innovation to their past output that is missing with this new device. Most thought provoking is their decision to retrofit an older song of theirs and apply this new sound, the renamed Echo (Echnoecho from 2008's Watersports). This inclusion only confirms what Mi Ami had going for them as a live trio, which was their ability to layer and expand on grooves and textures utilizing tom-heavy percussion, persistent bass throbs and No Wave/Post-Hardcore-informed guitar licks. Through remixing an older song, Martin-McCormick and Palermo inadvertently expose the drawbacks to their progression.
19 March, 2011 - 01:55 — Sean Caldwell