Music Reviews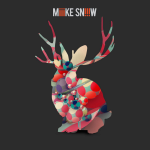 Miike Snow iii
(Downtown/Atlantic)

Anyone who listens to Britney Spears, Kylie Minogue, or Madonna on a regular basis owes a grand thank you to Christian Karlsson and Pontus Winnberg. The Swedish production duo, collectively known as Bloodshy & Avant, have engineered some of the hottest slices of pop magic since they first began making hits back in the early 2000s (remember Toxic? that was them). Beginning in 2007, Karlsson and Winnberg teamed up with vocalist Andrew Wyatt and the result was Miike Snow, a band every bit as eccentric as the duplicated "i" in their name and the emblematic jackalope gracing their album covers.
Four years after their last release, Miike Snow have returned with iii, a compact little electronica record with all the fizzing exuberance of a popping champagne bottle. Every track bursts with crafty hooks, gleaming synths, and Wyatt's pitch-shifted vocals. There is no presumptuousness, no bending over backwards, none of the dilly-dallying or peacocking so common to records commonly associated with the indie genre. And in fact, that may be the secret to iii's success—Miike Snow have learned to harness Karlsson and Winnberg's hitmaking-intuition and match it with Wyatt's idiosyncratic sensibilities. On iii, they meld jumping beats that Britney or Madonna would kill for with lyrics their managers would never allow, blending top-40 brawn with songwriter brain and indie heart.
Admittedly, iii flirts dangerously with its commercial sound, to the displeasure of fans used to Miike Snow's earlier work. But there is no denying the creepy genius of Genghis Khan, the frenzied fun of For U (a collaboration with Charli XCX, no less), or the unapologetic bounce of The Heart of Me. When Wyatt sings "I saw you licking a dollar bill / I'm in the graveyard if looks could kill" on My Trigger, we can hear his impish smile through his voice. If there is anything to complain about, it would be the intense emphasis on style over substance—why would anyone listen to the lyrics of Genghis Khan (good as they may be) when those initial "ooh ooh oooohs" are so infectious? At the same time, however, their emphasis on style is deliberate, focused, and natural. Too many good albums nowadays get downgraded simply for sounding too "commercial,'' and that's a cop-out reaction on a critic's part. If this is the sound of Miike Snow selling out, let's hope they sell out more often.
28 March, 2016 - 04:32 — Luiza Lodder