Music Reviews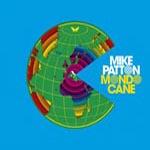 Mike Patton Mondo Cane
(Ipecac Recordings)

You have to give this to Mike Patton: He never runs out of shit to do.

As both an underground and mainstream presence, Patton has specialized in being hard to swallow, either through noisemaking irritation (Maldorer), avant juvenilia (Mr. Bungle), one-hit wonder-dom (Faith No More), metallic free-jazz abstraction (Fantômas), lustful hip-hop lounge music (Lovage), or digging into the world of plastic pop (Peeping Tom). As widespread and expansive as music is in terms of culture or genre, it's possible he's looking to try it all before his mortality catches up to him. The man is his own niche.

Having just come off a small stint composing film scores, (A Perfect Place, Crank: High Voltage), Mondo Cane is Patton's foray into orchestrated Italian pop music. With the high-class three-piece suit exuberance of an Italian Scott Walker from way back when, Patton treats us to homage wrapped in language barrier, romantic and sexy enough to set a reproductive system on "ovulate" like a Star Trek phaser. Fuck, dude… after hearing this, even I want to bang the guy.

When Faith No More covered Lionel Richie's Easy in the early 90s, whether that move was intended as a jab or not, Patton sold himself as a high-level vocalist, capable of more than proto nü metal raps, eerie croons or squeals and screams. Not that one could ever have doubted his chops before that, but his versatility became much more apparent. It isn't surprising then that Mondo Cane exists, showcasing Patton's talented throat and the ease at which he embodies this sort of classical approach to operatic pop, backed by orchestrated arrangements worthy of someone like Jack Nitzsche, though obviously more modern.

Mina's Il Cielo In Una Stanza is a mid-tempo pop romance treated with some distorted embellishments that seem there for severity. Don't want you to think that Patton got TOO prissy, right? From there an amusing take on Dragnet introduces the quick paced crime drama of Fred Buscaglione's Che Notte!, where sirens ensue and the caper is on. I guess.

Hearing Ore D'Amore by Fred Bongusto, it's apparent that this may have been a source of inspiration for his A Perfect Place score and accompanying vocal tracks, as the song's noir posturing seems to revolve around a lot of what Patton was shooting for.

Other standouts include the "Spaghetti Western" feel of Luigi Tenco's Quello Che Conta and the loud and familiar howl that goes along with The Blackmen's Urlo Negro. I was also taken with Patton's rendition of Enzo Bonagur's Scalinatella, a lone guitar giving us rest from the overwhelming orchestra.

There's a lot of beautiful music to hear and Patton treats it all with an admirer's respect, but there is something about Mondo Cane that reeks of vanity.

In 2001, Patton did something similar to Mondo Cane with Director's Cut, the Fantômas album that bred metal versions of classic horror, sci-fi and noir film scores. With less of a band, a mere four-piece compared to the thirty-piece orchestra used for Mondo Cane, Director's Cut managed to make a stronger case for homage as Patton took creative liberties with the source material. By doing so, Director's Cut allowed the music to breathe differently, almost seeming rejuvenated thanks to the band's reinterpretations. Even the iconic Godfather theme, a piece of music so bred into the pop culture psyche that children hum it while exiting their mothers' wombs, seemed challenging, exciting and new.

In the case of Mondo Cane, though good, the music doesn't really transcend the 50s or 60s, nor does the music's cultural relevance reach past its homeland, making his efforts seem somewhat unnecessary. Imitation, in this case, proves to be the sincerest form of imitation and Patton simply comes up with a new addition to his expansive portfolio.
12 May, 2010 - 04:21 — Sean Caldwell