Music Reviews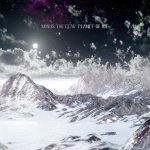 Minus The Bear Planet Of Ice
(Suicide Squeeze)
Buy it from Insound

If we're playing fair here, you couldn't really expect anything other than the chiselled precision of Planet Of Ice, looking at its cover. The barren landscape marked by a crystal clear sky and sunlight sweeping the landscape; it marks a broader scope, a more preserved, serious Bear. I mean, the title is "planet of ice." But it could have just as easily been that big inside joke, making fans expect a change of pace but really amplifying their beers-all-around attitude (especially with those titles; there's no losing of the money at the cock fights here). Just kidding, everybody; let's joyride with some yachts!
So, whether surprising or not, Planet Of Ice marks Minus The Bear at the top of their game. This isn't a question of whether its an album you'd drink to or not (but you could make the claim that they've made enough of those). Here, technicality is the name of the game, taking melody for a spin through maturity. As infectious as always, there is a disquieting sense of growing up added to the mix, turning their ultra-cool playfulness into ultra-cool suaveness. In Alex Rose, they have found a new keyboardist ready to vary sound with a more profound sense of quality. Knocking jazz influences around or figuring in bouncy melody (like in album highlight, Knights), Rose brings about him control that settles into the other members.
Even so, with all their delightful, hormonal adventures toned down into sometimes stark jabs as sexuality ("I need to feel your body moving on me"), the guys still have an ear for catch. Knights recalls Menos El Oso's strongest track, Hooray, incorporating its keyboards in hand tapping guitars and Jake Snider's wavering tone (and this goes for almost every song. Really, this guy has matured the most of all). Try not to get lost in the slow jazz styled White Mystery, the musical equivalent of sexual tension. And there's hit potential to Throwin' Shapes, the album's greatest example of meshing finger-tapping chords, computer effects and Snider's voice into the pop-alt-rock you'd expect, even if it feels a little too contained for its own good.
Which brings us to Planet Of Ice's biggest detractor: Guys, loosen up. A little ironic, seeing as that's exactly what they just moved away from, but even if Planet Of Ice proves to be their best technically, it lacks most of the charming attributes of Bear's inferior albums. With a little more practice, they could incorporate the careful precision and carefree attitudes into a modern classic (though Lotus is an epic piece of work). They may have missed the mark here, but at least they're in range.
29 August, 2007 - 20:30 — Lewis Parry