Music Reviews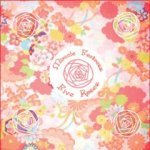 Miracle Fortress Five Roses
(Secret City / Rough Trade)
Buy it from Insound

Pink confectionary fluff is something every kid has a place in their heart for. While the cotton candy vortex tends to be amusement park exclusive, lately I've discovered that the aural bliss of Graham Van Pelt's Five Roses tramples with Aces over such sugary nostalgia.
That's right: instead of staying tucked into the borders of our jaded adult selves, Graham Van Pelt has provided us with us with the blissful whimsy needed to enjoy the dandelion tufts of summer with carefree trust.
Side-stepping his team-member position in the Toronto band Think About Life, Van Pelt forged Miracle Fortress as a one-man side-project. Departing from the erratic signatures of his Alien8 band, (think: high pitched keyboards, moody vocal proclamations and rainbow harmonizing), he enlisted tambourines, horns, drums, guitars, pedals and (if not a Rhodes), an array of underwater keyboards to fuse himself into his solo proposition. Like little menageries trapped in his head and reinvented to become an ornate oasis the Care Bears would deem hospitable, Van Pelt wrote, performed and recorded everything on Five Roses himself. At a place entitled Friendship Cove, nonetheless.
Considering the recording location, it's no surprise the work comes across as a soundtrack following the life path of a triumphant sunbathing dolphin; as a record relentlessly basking in sunlight through all its brief moments of pensive doubt. While some tracks bury themselves in shallow sand, others splash out of the water, and all are refracted before rising like oxygen bubbles with buoyant ease. Each song seems to be its own wistful proclamation, gently distinct though part of an obvious whole, like chocolates to an advent calendar. With its spry fervour, the record boasts three overt power-pop anthems, two of which are a direct throwback to two very familiar sixties hits: Maybe Lately indelibly alludes Brian Wilson, brushing right up to the Beach Boy's melody of Don't Worry Baby, while the album closer This Thing About You trips over The Supremes Where Did Our Love Go. Yet, both tracks form a worthy and distinct personal identity come the verse. As with the bittersweet air of Hold Your Secrets to Your Heart, the delicate instrumental purr of Five Roses and the array of shallow water fauna that graces the interlude of Beach Baby; the record travels like a sun blown breeze, fluffing up much like that ball spun by the cotton candy machine described earlier.
With the dreamy whirr of Van Pelt's solo debut, it's no surprise the record is a leading contender for Canada's Polaris Music Prize, alongside Canadian propagators Feist and Arcade Fire. As the mysteriously lauded Five Roses continues to graze under the radar, it stews in temperate waters, patiently waiting to awake more buried hearts.
17 August, 2007 - 15:09 — Tara Campbell