Music Reviews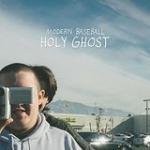 Modern Baseball Holy Ghost
(Run for Cover Records)
Buy it from Insound

Holy Ghost wasn't the easiest album to write for Modern Baseball. The young Philadelphia band's open-hearted songs about alienation and the pitfalls of melancholic angst have garnered them an incredibly devoted following. And rightfully so - there's an authenticity and clarity to the themes they explore that is impossible to replicate, seeing as main songwriters Jake Ewald and Brendan Lukens are pointedly direct about their gripes without ever undermining their attentive fans. That sense of community is essential to the band's raison d'être, a passionate exchange between listener and performer that will only strengthen with the passing of time.
Both songwriters have dramatically changed their approach to songwriting in Holy Ghost, where they tackle more serious matters instead of sticking to more adolescent concerns like social awkwardness and female rejection. For one thing, Lukens underwent rehab after suffering mental health issues, an unfortunate account that has only made them even more of a necessity for the disillusioned. Lukens doesn't shy away from things and brings them into the foreground - in the stellar anthem Just Another Face, he looks within himself to discover that the only way to guide others can only be achieved through helping himself. Moreover, Ewald's own concerns about familial loss also seem to correlate with Lukens' self-harming behavior; in Everyday, he might as well be alluding to a friendship that almost came into an abrupt finish: "Waking up everyday is all about doing things you don't want to do / But your reward is you get to wake up".
Holy Ghost partitions both songwriters' efforts, and though their sensibilities are not necessarily attuned with one another they still share an intrinsic commonality of purpose. Ewald's more expansive songs, like Note to Self and Mass, reveal a more composed performer who's still devoted to a classic pop punk style; the aforementioned Everyday, though, is a hypnotic rocker that introduces some luminous atmospherics with an uptempo rhythm section that hints at Antics-era Interpol. Lukens, however, opts to barrel through his own set, like in What If.. and Breathing in Stereo, though the heavier, pummeling guitars could imply that Lukens is fast outgrowing the more chugging riffs and joyous breakdowns of pop punk in favor of what sounds like caffeinated Weakerthans songs. It's intriguing to see how they're both playing with similar conventions, though executing them in different ways, until more listens actually reveal how these arrangements plainly divert more closer to an indie rock aesthetic.
Holy Ghost just resonates because it's so deeply felt and passionate - with hardly a wasted moment throughout its brisk 28 minutes - to such a degree that it's easy to dismiss its songwriting flaws. It features Modern Baseball's most memorable songs yet, some of which are sure to become live staples regardless of how they change over time. Somehow they're making music out of sheer impulse, dedicated to their process, while touching lives with a very do it yourself attitude. These are songs made by early twenty somethings for early twenty somethings, taking things at a measured pace and taking their common peers with them. And that's something no self-help book can teach.
23 May, 2016 - 04:15 — Juan Edgardo Rodriguez