Music Reviews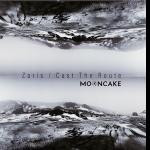 Mooncake Zaris/Cast the Route
(Fluttery)
Buy it from Insound

What's in a band name? Quite a lot it seems, in the way of expectations. A mooncake may be a tasty Chinese pastry, but it's also a terrible thing to call your band, raising unpleasant images of a third-rate psychedelic/crusty band playing on Glastonbury's Avalon stage during a mid-90's afternoon, sometime before the Levellers are due on (and the track titles don't inspire much confidence either – isn't a Zaris a car?) So it was something of a relief to find out, when finally daring to press play, that Mooncake are a post-rock act. A particularly elegant one at that, quite possibly as a result of their adding a permanent cello player to the usual guitars, bass, drums, keyboard set-up (also, it turns out that they're Russian, which just about excuses the dodgy titles).
Unfortunately that makes them a bit of a bastard to review as, really, what is there left to say about post-rock that hasn't already been said? It's strange to think that to many ears in the late nineties this was the sound of the future, a bold and unique alternative to what had gone before. In reality it succumbed to cliché and formula far more quickly than even some of the most commercial pop music, and Mooncake are in no mind to break with the quiet/loud/quiet structures of their forebears.
Pieced together from a couple of previously released singles, the Zaris/Cast the Route EP, as you would expect, weaves together elements of all four of the genre's titans. There are occasional moments of guitar and cello interactions that recall Godspeed's Lift Yr Skinny Fists, elsewhere there are references to the crepuscular melancholy that Mogwai played around with on their final Chemikal Underground releases (which by extension means that the constantly creeping guitar patterns of Slint's Spiderland are also present and correct). For the most part though, the act they most resemble is Explosions in the Sky, thanks to the way that the guitar lines gently waltz around each other, describing vastness with a very delicate touch.
In other words, what Mooncake offer is epic, grandiose romance, the sort of romance that can't quite be captured with words, but instead is best evoked with delayed guitars, soft yet dextrous basslines and, in the case of Mooncake, a brass band playing in the next room. This is music for driving to late at night, contemplating the open road ahead. Or at least it would be if it lasted a bit longer – the four tracks range in length from 3 to 10 minutes, which, going by the genre's usual standards, is almost pleasantly concise.
The cynical could point out that what's on offer here has been done hundreds of times before, and that the production is weak in places (the drums do sound a little thin, particularly during Cast the Route's more dramatic moments). But then this is the sort of music that hits you in the heart rather than the head, and has been executed so lovingly that being cynical about it seems like a waste of time. It's a miniature gem of a record, and should be pretty much essential listening for anyone who has felt let down by the most recent Mogwai and Explosions in the Sky material.
29 June, 2011 - 11:24 — Mark Davison