Music Reviews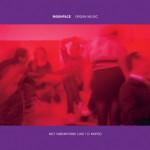 Moonface Organ Music Not Vibraphone Like I'd Hoped
(Jagjaguwar)
Buy it from Insound

It is baffling to consider how both Spencer Krug and Dan Boeckner of the critically-acclaimed Canadian indie-rock group Wolf Parade never let electronica flourish on their work together as Wolf Parade. Both have dedicated much time and energy into the genre – enough to send Wolf Parade on an indefinite hiatus. Or perhaps with Wolf Parade out of the picture (for now at least), Krug and Boeckner can move on a common underlying curiosity for electronic-oriented sounds. Boeckner has faired well with Handsome Furs, breaking into more than positive reviews since the release of this year's Sound Kaptial. Meanwhile Krug, in his first effort since the hiatus, has released his first LP under the moniker Moonface.
It's understandable that Boeckner was the more identifiable voice of Wolf Parade – somewhat of a Mick Jones to Krug's Joe Strummer – and therefore Handsome Furs has had the advantage in recognition. But any exhibition into Krug's career thus far (Wolf Parade, Swan Lake, Sunset Rubdown, Frog Eyes, and more) has proved him one of this generation's topnotch geniuses of songwriting. At least until Organ Music Not Vibraphone Like I'd Hoped (a bizarre, long-winded title apt for the album). Coming in at a hefty 5 tracks, Organ Music…, even with all songs timed between 6 and 8 minutes, scarcely reaches the climaxes present in so many of Krug's other projects. In many ways, it's very similar to Plague Park, the first Handsome Furs album from 2007; both albums have their moments of potential, but fall prey to monotonous drum tracks and anticlimactic sentiments. Openers Return to the Violence of the Ocean Floor and Whale Song (Song Instead of a Kiss) both suffer from a superfluous repetition of their first three minutes. And while some vocal hooks reminisce of Krug at a peak of musicianship, too often the songs from Organ Music… give themselves away in the first three minutes, then proceed to flutter about without progression for another three or four minutes.
Perhaps Moonface is meant to demonstrate a very crucial lesson for the genius songwriter: there are very different dynamics when presented with the restraints and discipline of a band as opposed to the endless freedoms of going solo. Krug is a songwriter whose craft is best when met with the editing of other musicians – left to himself, however, we are left with a very forgettable retreat into his very OMD-obsessed psyche. In Fast Peter, we are witnesses to what Krug most likely had in mind for the album – a mesmerizing take on French synthpop along with the classic vocal cues and melodies that make Krug so distinct. As for the rest of Organ Music…, we can only wait for the next from Wolf Parade.
9 August, 2011 - 07:34 — David Hogg