Music Reviews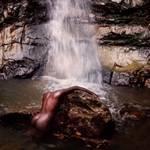 Moses Sumney Græ
(Jagjaguwar)

The first sound you hear on Græ, Moses Sumney's sophomore album, isn't the voice of the American singer-songwriter, but British author Taiye Selasi. The album's opening song, insula, has Selasi discussing isolation, explaining the Latin root and telling us that it directly means island. It's the first time throughout this project that Selasi's voice acts as a narrator, coldly deciphering some of the themes of Sumney's work, just in case you missed it in his abstract imagery or direct storytelling. It shouldn't be surprising that Sumney is teaming up with an author, as his broad ambition and poetic scope was notable on 2017's Aromanticism, but the real joy of his latest is the music. Græ is a textural wonder, with soft electric guitars, Sumney's beautiful voice, and glittering synths making up most of the album's heavenly sounding songs.
If you put Græ on in the background, the moments that will stick out are the fluttering harmonies of Polly, the plucking synths of Lucky Me, or the sharp intensity of Virility. With a combination of wonderful producers (Oneohtrix Point Never, James Blake, and Matthew Otto of Majical Cloudz all make appearances), a light but never frivolous tone is sustained throughout this album's 66-minute runtime. Electric guitars are prominent throughout, but they're never awkward or too bulky sounding, helping the album maintain its' specific feel. Sumney and his gang of producers aren't limited by attempting to sustain that vibe, as a song like Neither/Nor manages to be a little funky, a little reflective, and most of all: stunningly pretty. What's clearest is how Sumney's voice is the main attraction. Vocals sway in and out of songs, never hurried, always supplemented with a perfect amount of reverb. His falsetto carries some of these songs into the most gorgeous places they could go, with hazy and luminous instrumentation acting as a strong spine for his meditations throughout.
Sumney's usual theme of intimacy and being loved returns here, but he continues to write about the topic with a care and uniqueness that makes his music worth returning to again and again. Despite the sonic warmth of Græ, this is an incredibly lonely and bittersweet project in its prose. Lucky Me is Sumney's startlingly sad, 3AM breakup song about remembering what it's like to be held by someone, backed by thrumming synths and mellow strings. As he sings "I still feel you when I go to sleep and when I awake," you can almost hear a heart breaking in real time. Album highlight Polly talks about being in a relationship with a polyamorous person, and how unloving that can feel sometimes. This is a song of vivid imagery ("I want to be cotton candy in the mouth of many a lover, saccharine and slick technicolor"), but one of Sumney's best lines ever comes when he tragically sings "You love dancin' with me… or you just love dancin'." In that respect, the aforementioned opening song helps set up the album perfectly. On the album's saddest moments, Sumney feels like an island unto himself—just as Taiye Selasi said at the beginning.
1 June, 2020 - 03:34 — Ethan Gordon