Music Reviews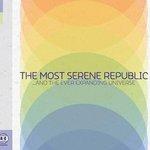 The Most Serene Republic ...And the Ever Expanding Universe
(Arts & Crafts)
Buy it from Insound

In their search for authentic beauty, it serves to note that The Most Serene Republic, or La Serenissima, are discerning their own expectations. Just as trying to explain what a sobriquet is, there was an incredible difficulty in trying to break down the grand scheme of the Canadian collective. Now, with a surprisingly quick third effort, they're getting closer to inviting us to the classic soiree they've been hinting at these past six years.
The Most Serene Republic know that to please an audience, there has to be a balance between accessibility and experimentation, especially under a moniker that is known to specialize in branching out chicken soup for the lost indie soul. Being one of the few groups on a nepotistic, yet incredibly gifted label like Arts & Crafts, there's always room to grow over your associates. Being some of the youngest musicians to grace the label from the start was a miraculous, but deserving feat.
Growth spurts aside, …And the Ever Expanding Universe serves as a backdrop to a myriad of classically trained beauty. For one thing, they learned a little from their sophomoric step forward. Population, even if quite accomplished and easy to like, lacked a real sense of focus. Beneath an array of chamber beauty and classical arrangements, they were also hinting at the devouring intent of producing a rock record. It was pretty, nonetheless, but also quite in need of some personality. For their third effort, it seems as if they're going back to give pop some sensibility, even if that's the expected part of the equation.
…And the Ever Expanding Universe starts with the accomplished Bubble Reputation, a three-minute opus that, simple enough, starts with a horn section, synth ambiance, and pulsating piano keys. Soon enough, it turns into indie cabaret, with aggressive drum patterns, choral arrangements, and an evident amount of desperation amidst its unusual guitar work. Without wasting a second, it intends to make us groove with Heavens to Purgatory, a dance-y alt. pop tune with banjo licks and horns that wouldn't have been out of place in Broken Social Scene's catalog. It shows that music producer Dave Newfeld, of BSS fame, put his fingers in the console.
Still, this isn't a case study in trying to pigeonhole The Most Serene Republic as the inferior Broken Social Scene. For one, they did start with a bang with Underwater Cinematographer, an incredibly flawed, yet compulsive variation of sounds that only served as a resume of sorts to show their range as musicians. Apart from ostentatious album covers and pompous instrumentation, this now septet isn't anything of a fluke. For one thing, they seem to be the kind of act Arts & Crafts do champion: to engage the listener with an impressive array of sounds beneath a prerequisite pop sound and a strong marketable image; those album packages are quite the charmers. Plus, they do have three albums in the can. Take that, BSS!
Just as they're getting closer to solving an apparent diagnosis of identity crisis, The Most Serene Republic break the mold by being even more eclectic. A few positives abound. For one, they keep improving their sonic intake. Their accompanying synths, while in the past sounded a bit forced, have a more distinctive approach that blends in with the rest of the mix. Tracks like Patternicity and No One Likes a Nihilist take them one step closer to conceptually getting their progressive tendencies in full force.
On the other hand, their songwriting, while heartbreaking and complex, is muddled by a lack of presence in the vocal department. Who would think that with seven heads in hand, one of them would at least have a more resounding vocal range? They settle as sounding sugary and somewhat endearing, but never compelling. Also, having a producer like Dave Newfeld is a risky and questionable choice. Even if he exemplifies their bittersweet strengths with the haunting All of One is the Other, he also diverges those moments with cookie cutter tracks like Phi or Don't Hold Back, Feel a Little Longer, which isn't a step above anything Stars or the aforementioned BSS have done before.
…And the Ever Expanding Universe could be known as the difficult album that got The Most Serene Republic into a more inventive territory. What they do have going for them is how evidently noticeable they've progressed in such a short time. Instead of expanding, they're discovering. This is otherworldly stuff indeed.
30 July, 2009 - 12:24 — Juan Edgardo Rodriguez