Music Reviews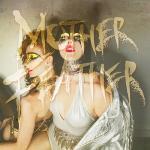 Mother Feather Mother Feather
(Metal Blade Records)
Buy it from Insound

It wasn't too long ago that being a New York band meant you had an attitude and fury that would guarantee your survival. Rather than staring at their instruments or try to catch your attention with small talk, these artists would get in your face and force you to listen. And you'd be thankful that they did. That's Mother Feather in a nutshell.
Led by slithering, screaming singer Ann Courtney and vocalist/
keyboardist
Elizabeth
Carena
, Mother Feather's self-titled debut has the theatricality of a time traveling Karen O, if she brought the underground rock of the
90s
and
2000s
to the
1970s
. This is gritty, dive bar, party-until-the-sun-comes-up music that is anchored by guitarist Chris Foley, bassist Matt
Basile
and drummer Gunnar Olsen.
Just listen to the ferocious fuzz of Living, Breathing, the perfect, off-the-rails vehicle for Courtney to throw out irresistible lines like "In this light I can't see past it/Where would you be if you were my glasses?" On Mother Feather, the band stakes out their territory with a hard rock riff, rafters-shaking bass line and a howling chorus. The Power starts with low-key, muted notes, luring listeners in before blasting them back with...well....a lot of power!
Throughout the album, Mother Feather proves that it is more than a one-trick pony. The slow-burn of
Mirror
starts like a heavier version of
Edge of Seventeen
by Stevie Nicks, before slamming into a ripping chorus with Courtney's intense, belting vocals.
Trampoline
is rock-funk fusion, blowing out with a call-and-response melody.
Beach House
has light, sun-soaked Californian chords that fit its title.
They Tore Down the

SK8

Park
effortlessly glides between an echoing electric guitar and acoustic rhythms.
With an aggressive, provocative style and the songs to back that image up, Mother Feather is determined to bring the fight directly to you. Once you hear their music, you'll realize they are primed not only to survive, but to thrive. With an old-school New York swagger and
earworm
melodies, this band has all the momentum of a 747 at takeoff. It's time to jump aboard.
30 May, 2016 - 17:40 — Joe Marvilli