Music Reviews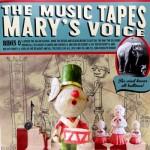 The Music Tapes Mary's Voice
(Merge)
Buy it from Insound

Julian Koster, former member of Neutral Milk Hotel and principle songwriter for The Music Tapes, is a man who warrants very little introduction. He's been the go-to studio musician and arranger on many of the albums associated with the Elephant 6 collective for going on 20 years and has endeared his boisterous boyish persona into the hearts of many a listener. Koster's work with The Music Tapes has ranged from lo-fi outsider music to charmingly textured folk and his latest album, Mary's Voice, is no different. It's an album wrought with nostalgia, fuzzy-tape hiss, and unbelievable musicianship that any fan of Koster will surely eat right up.
The arrangements on this LP are dense to say the least. On any given track you can hear reed-organ, trombone, cornet, trumpet, church bells, singing saws, and the frantic sound of Koster's bowed banjo. But while the listener may get an earful of chamber orchestra textures, one never feels quite overwhelmed by production. The instruments on songs like The Dark Is Singing Songs (Sleepy Time Down South) and The Big Beautiful Shop (It's Said That It Could Be Anyone) sound sort of distant - almost as if they were blanketed in a soft film of ethereal atmosphere. This gives many of these tracks a very surreal, dream-like vibe that fits in perfectly with Koster's playful lyrics and innocent, adolescent vocals. However, the album does dare to evoke the darker side of dreams on some of these tunes. The fuzz laden Playing "Evening" is one of the more chaotic compositions on this LP - employing a smattering of unruly distortion, booming rhythms, and cascading crescendos.
There's a certain tenderness to many of the songs on Mary's Voice. Koster's voice is so placid and vulnerable, and while I may not always understand what he's singing about, his delivery is so heartfelt that I can't help but emotionally connect with him. While the album does exude a bit of Koster's whimsy and clownishness, there's an underlying sadness to most of these songs. To All Who Say Goodnight is a great example of the tempestuous nature of this album. The song seems fairly warmhearted at first, but one soon learns of its trickery. "Till we all grow old," the seemingly ageless Koster suddenly cries, as if he were confronted face-to-face with the specter of his fleeting youth. The music likewise moves from sweet, comforting banjo strums and nostalgic vocals to apocalyptic organ dirges, crashing drums, and painful psalmodic wails.
The Album's closer Takeshi and Elijah seems to be a thematic revisitation of Koster's days in Neutral Milk Hotel. "Once a year/ You'll appear/ Swing on your swing set/ Sing snowy night rooms/ Your sweet snowy tombs," he sings reminiscently. To me, it sounds like Koster may be referencing reclusive Elephant 6 collaborator and former bandmate, Jeff Mangum. "Pointing hands, pointing hands/ Somehow we all played in musical bands/ That toured through the lands," he continues - if this isn't a reference to his former band, I don't know what is. The track also features sparse banjo strums and a melismatic vocal most commonly associated with the work of Mangum. Admittedly, this is an inevitable comparison that I'm sure Koster has tried to shake off quite a bit over the years, but as a tremendous fan of Neutral Milk Hotel, I'm compelled to comment on it.
After years of separation from his former band, it seems Julian Koster still can't quite get rid of the looming shadow of Neutral Milk Hotel. The profoundly influential impact of that band makes such comparisons an unavoidable certainty. However, this isn't to say that Mary's Voice is a retread of familiar territory, it's merely a distant memory of it all. And just like all recollections from yesteryear, some aspects have been hyperbolized into spectacular fantasy, while others have faded into a warm, fuzzy haze of nostalgia.
19 September, 2012 - 08:57 — Andrew Ciraulo