Music Reviews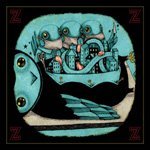 My Morning Jacket Z
(ATO)

They say that this is My Morning Jacket's OK Computer. Well then, this review is my Hamlet. What does that tell you? That reading it will cast light on the human condition like no other literary work? Not likely. That it is an Everest in my Himalaya of rock crit peaks? Maybe so, but don't count on it. No, what I think, or would like to think, other reviews are trying to say is that Z is MMJ's best album yet. I wouldn't want to mislead anybody into thinking that hearing this album will make you wet your pants the way you did when the first six songs on that Radiohead classic hit you. So let's dispense with the silly comparisons and evaluate Z on its own terms.
You can't blame MMJ for all this loose talk, though it doesn't help when you get John (The Bends) Leckie co-producing your album. Yes, Z is atmospheric, yes, it has soundscapes, yes, it's even ethereal. But this isn't just a byproduct of knob twiddling, it's clearly what the songs demand. Any previous thought that these guys were going to morph into the next Neil Young or Lynyrd Skynyrd should be promptly flushed down the toilet. They've always been a little too interested in the Sound for a bunch of good ol' boys from Louisville, and now that interest has become their modus operandi. The songwriting is geared to milking out aural pleasure for its own sake, leaving a lot of empty spaces where Jim James' wailing vocals can reverberate. Gideon, with its slightly menacing guitar riff, and Into the Woods, with its spooky carnival organ are two fine examples. Here, the moonlit echo production suits the material perfectly, and you might find yourself transported behind the wheel of an old big-engine Chevy cruising down the interstate at the darkest hour, you know, just before the dawn. But it is less effective on the two excellent rockers, the Who meets Polyphonic Spree-inspired What a Wonderful Man, and the reggae swinging Off the Record. I could be wrong, but some of the punch these tunes pack is hindered by gloves a little too thick, to stretch the boxing metaphor to the breaking point. Great songs though, sans doute.
MMJ do reveal their roots on the southern rock of Lay Low, with its doubled guitar solo workout that had me reaching for my lighter. And it's fair to say there is more than a little Thom Yorke and Wayne Coyne in the falsetto refrain of Wordless Chorus. But MMJ carve out their own niche with It Beats 4U, with its hurried drumming and patient vocals. Further, they rival Wilco in wistful balladeering on the splendid Knot Comes Loose, using pedal steel in a miraculously tasteful way.
Occasionally, the dreamy sound renders the record lethargic, and finding something that worked perhaps encouraged a bit of indulgence - a distinctly non-Southern trait. So we float out on the wings of the lengthy Dondante rather than Knot Comes Loose. This may have felt appropriate to the band given the atmosphere they created, but it was a bad choice. It's dragged out moments like this that hold Z back from greatness. That being said, this is still a pretty wonderful record. An album you should definitely own, and a band you should definitely watch.
9 October, 2005 - 23:00 — Alan Shulman