Music Reviews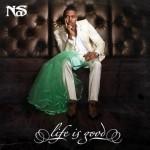 Nas Life Is Good
(Def Jam)

I'll put it out there straight away; Illmatic is my favourite album of all time right now. It'll change once I've overplayed it a bit but for the last few months, Illmatic has been my favourite. So when you look back at Nas's back catalogue and you think of that debut, you can't help but feel disappointed. After making an album that is as close to perfect as an album can come, he churns out a series of average/crap albums that make you sigh. It was summed up by Jay-Z on The Takeover, "a one hot album every ten year average and that's so LAAAAAME". So since 1994, we've been waiting for the next great album and all the suspense of this build up is ruined by the fact that you've already seen the rating I've given this album. God it's good...
Fuelled by an acrimonious and supposedly high profile break up with Kelis (I hadn't heard anything about it, though I've no time for celebrity news), Nas has partially returned to the late 80's/early 90's golden age of hip hop sound that inspired his debut, taking influence from production greats like Run DMC, the Bomb Squad and Eric B., so much so that Eric B. Is President is sampled on You Wouldn't Understand. A Queens Story has that bold, orchestra of samples style that the Shocklees brought to Public Enemy, AmeriKKKa's Most Wanted and the incredibly underrated Bazerk Bazerk Bazerk by Son of Bazerk. There's even a hint of Maxinquaye on the deluxe edition track Roses: rap juxtaposed with an angst ridden female voice and a doom filled backing track.
Loco Motive will take any "trapped in the 90's" fans straight back to the glorious N.Y. State Of Mind with its big, stomping piano and bass, as does the boyish adrenaline filled verses. Nasty, a further deluxe edition track,has that same Illmatic feel, simple and punchy. Rapping wise, the album hits a peak on World's an Addiction when Nas embarks on a lung busting, assonance filled tongue twister of a verse that makes you nod your head to the beat like one of those background guys in videos of rappers freestyling.
Maybe the most remarkable thing about the album is how old it makes the genre feel. Nas is 38 now, far from the 20 year old who blasted his way into the public conscience with Halftime, even if he does protest that he still looks 20 on Stay. The age manifests in surprising ways, be it a rap about having an 18 year old daughter and her posting some pictures of condoms on Instagram (again, apparently it was a big story, first I'd heard of it) or her showing an interest in the wilder young men, the sort of guys that Nas used to be friends with all those years ago. That same age crops up throughout the album whenever the issue of divorce is mentioned, while there may have been many famous, public divorces in the hip hop world, I can't think of any artists that have centred a whole album around the anger and the bitterness in the way that Dylan did on Blood On The Tracks or Marvin Gaye did on Here, My Dear the latter of those two being the main influence on the album. The only rap album that comes close in terms of tone is My Beautiful Dark Twisted Fantasy, and the similarities to Kanye don't end there.
Around half of the tracks are produced by Kanye West's go to producer, No I.D. He's arguably the star of the piece, bringing the same mix of classic soul and electronic, synthesised strings that sparkled on Kanye's past work and sparkle now on Life Is Good, most of all on the sublime Stay, the standout track on an album of incredible songs. The No I.D. produced Stay mixes the sound of 60's soul and John Coltrane, bringing to mind Low End Theory era A Tribe Called Quest and Tupac's Me Against The World, as well as questioning the line between love and hate that starts messing with your head after a complicated and acrimonious break up.
As much as he states life is good on Cherry Wine or the title track, Nas is clearly miserable and bitter, and as odd a wish this seems, I hope it continues. That old quote "happiness writes white" comes to mind and I hope that this album isn't a momentary purple patch and he can use this to restart his career as an introspective and personal rapper. I really hope so.
24 August, 2012 - 10:33 — James McKenna