Music Reviews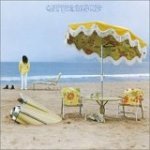 Neil Young On The Beach
(Reprise)
Buy it from Insound

I've never quite 'got' Neil Young... I've got 1973's Tonight's The Night, which was allegedly his bleakest album, I bought it to celebrate passing an A-Level aged Seventeen, along with The Queen Is Dead, and the contrast between the two albums' immediate effects was huge... Young seemed to be utilising depression as inebriation-tinged melancholy sedative, I love melancholy, I think Mark Linkous is the don, for example, while Nick Drake's Pink Moon is one of my favourite albums from the 1970s, but for whatever reason Tonight's The Night still hasn't truly sunk in with me (perhaps my initial exposure to it in the face of Morrissey's immediately entertaining negative wit made it seem too much like hard work.)
A few things regarding the image of the man himself gnawed; his apparent 1980s pro-Reagan posture, compounded by an ability to grate with apparent arrogance in many of the press quotes I read made me highly suspicious of his status as a 'great'. Yet the fact that this is a man who has influenced and earned the respect of the likes of Thom Yorke, Ryan Adams and Noel Gallagher left a nagging doubt that something had to be there which I wasn't appreciating.
Anyway, this month 1974's On The Beach, the final part of the 'Doom Trilogy' following from Tonight's The Night (at least in terms of recording dates) was re-released to widespread critical acclaim. I was intrigued with the same perverse love for the obscure that inspired a recent 'indie Muppet' outcry on the No Ripcord webpage. Still, I wasn't intrigued to the extent of desperately trying to procure a copy... Then in Fopp last week, I heard a beautiful tune, something along the lines of modern Flaming Lips approaching The Replacements exquisite Alt. Country tinged All Shook Down album. It turned out to be Walk On, the opener from On The Beach, I was further intrigued and the £7.00 asking price led me to purchase it as payday loomed.
The first thing that strikes about On The Beach is its tonal and emotional variance. I had the (incorrect) impression that it would be a bleak, cathartic experience, Tonight's The Night with something to seep into even the avid cynic perhaps. As it happens the eight tracks on offer here provide a dextrous set of songs, which slot into one another with aplomb. The intelligent FM-guitar pop of Walk On slides into See The Sky About To Rain, (imagine Big Star's September Gurls on sleeping pills) with abject ease. The David Crosby imbued Revolution Blues then finds Young showcasing a combination of prime solo Lennon or Dylan-esque polemic against a backdrop that allows him to make it his own. His lyrical onslaught against West Coast celebrity 'I hear that Laurel Canyon is full of famous stars, But I hate them worse than lepers and I'll kill them in their cars' may be quoted in most of the reviews, but it carries sufficient bite on record to warrant this. Young and Ben Keith then run through For The Turnstiles. A sparse, stripped down banjo-laden stomp, it's refrain that 'Though your confidence may be shattered, it doesn't matter' encapsulates its essence.
Vampire Blues is a laid back, bar-sodden blues willing redemption to come along in the face of its current status, while On The Beach does what Tonight's The Night didn't; making a similar sparseness hit me directly. Graham Nash adds piano to the song's lush instrumentation as Young intones, 'I need a crowd of people, but I can't face them day to day...'. Motion Pictures sounds incredible, the most obvious contemporary reference point being Ed Harcourt's From Every Sphere album, perhaps with a nod to the instrumentation of Tim Buckley's Blue Afternoon (the 'Morning glory is on the vine' line retrospectively evoking images of Buckley and Waits) but the lines 'All those headlines bore me now, I'm deep inside myself but I'll get out somehow...I'll bring a smile to your eyes' sound killer.
Ambulance Blues closes proceedings in an evidently scorched fashion, and On The Beach has done the improbable... let Neil Young dominate my stereo. To ice the cake, as it were, I've just read a Guardian article where he criticises the Dubya admin and its erosion of civil liberties in depth, removing a few of my negative pre-conceptions about the man. This is good, because On The Beach is an album that merits listening without prejudice. A true lost classic.
27 August, 2003 - 23:00 — Tom Lee