Music Reviews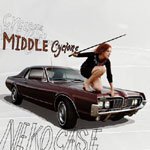 Neko Case Middle Cyclone
(Anti)

I have a soft spot in my heart for Neko Case records. Very distinct memories of driving along twisty back country roads in the state of Virginia during the changing of the seasons are recalled every time I shuffle Blacklisted into my playlist. Middle Cyclone, her latest, is already forging my sonic impression of Spring, and the season hasn't even arrived yet.

Middle Cyclone achieves a pristinely subtle musical backdrop for Case's soaring vocal talent to take charge over. Her vocals are untarnished in their purity and lack of warble, and are most likely what draw me in to her careful song craft. Like other of her records, Middle Cyclone has an almost earthen feel, with a grounded set of subject matters artfully portrayed using not only vivid alliteration and colorful wordplay, but also semi lo-fi recording techniques that allow the landscape to physically become a part of the document. Throughout the record, the sense of studio (barn) space is showcased by more than solely Case's vocals.

This Tornado Loves You, People Got a Lotta Nerve, Middle Cyclone, Magpie to the Morning, and Don't Forget Me are the tracks that are the most triumphant for me, personally. However, it feels barbaric to separate them from the connecting tissue of their adjoining cuts, and the record on the whole retains it's might as an album proper. The flow it achieves seems effortless, although I'm certain very calculated. A good instance of this is in the anticipation built during the brief (1 min 46 sec) second track: The Next Time You Say Forever. As a slower arrangement following the classic uptempo Case composition that opens the record, as the song wound down, I visualized Case approaching the next, perched on the hood of a GTO, vocal saber drawn. I was not let down as Case crooned "I'm a man-eater, but still you're surprised when I eat you." (People Got A Lotta Nerve)
The fabric of the record works well along the same lines; timely tempo-shifts, tasteful vocal highlights, and crafty songwriting. Middle Cyclone is also loaded with powerful imagery. Case's knack for poetry is first class here, from the "Sistine Chapel painted with a Gatling gun" (Polar Nettles), to ants as the "prisoner of their destination" (Fever). The alliterative sentiment from Don't Forget Me, a cover of the 1974 Harry Nilsson tune fits in nicely: "I'll miss you when I'm lonely. I'll miss the alimony too." It's just another in a handful of standout lines which make the record reverberate more and more as it receives heavier rotation.

The well-positioned title track is the apex of the entire endeavor. It's acoustic tone and haunting backing vocals are key players in the composition, but the standout adornment here is the tinkle of an old music box, which beautifully accents the sparse, yet poignant tempo through which Case's voice elegantly glides. The charmingly vulnerable lyrics are exposed as the personal keepsake inside:

I cant give up acting tough;
It's all that I'm made of.
Can't scrape together quite enough.
Drive the bus to the outskirts of the fact that I need love.

Amidst the brilliance of the remainder of the record, I keep returning to, and connect most with, this track, right in the middle of the whole thing, sharing the acceptance that no matter how much armor we wield to ward off the hardships of the world, only love can fill the aching void within all of us.

This also wouldn't be a proper review of Middle Cyclone without a take on the second half of the record; the singular thirty-minute opus Marais la Nuit (French for "Marsh at Night"). I over thought this at first as quite possibly the greatest commentary regarding the Biblical sentiment "dust to dust" and a searing revelation that, in the end, we may live and die, but there will always be the ubiquity of insects. In the end though, a half-hour nature recording is what it is. Besides an obvious iPod shuffle ruin-er, it is calming white noise, filler with character; or, as I utilized it, a helpful study aide. It adds a sense of locality to the number of things we can relate to through the character embodied in the recording.

Neko Case hasn't produced a disappointing solo venture yet, and between Fox Confessor Brings The Flood and Middle Cyclone, her recent production is the strongest of her increasingly beautiful catalog.
I'm ready for Spring.
3 March, 2009 - 20:42 — Kevin Walker